Analysis
10/4/23
21 min read
2023 NFL Week 5 QB Power Rankings: Joe Burrow, Daniel Jones Keep Sinking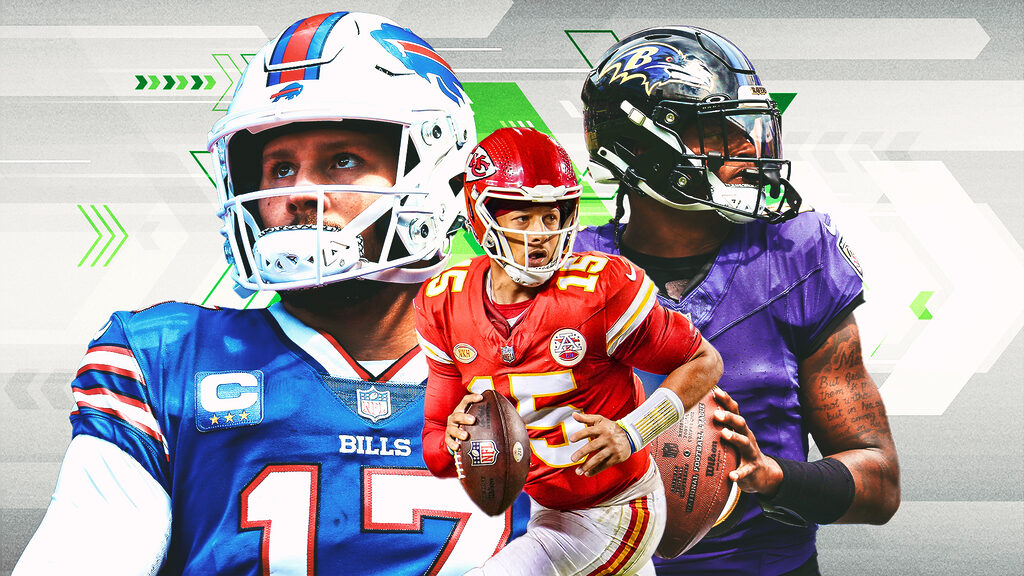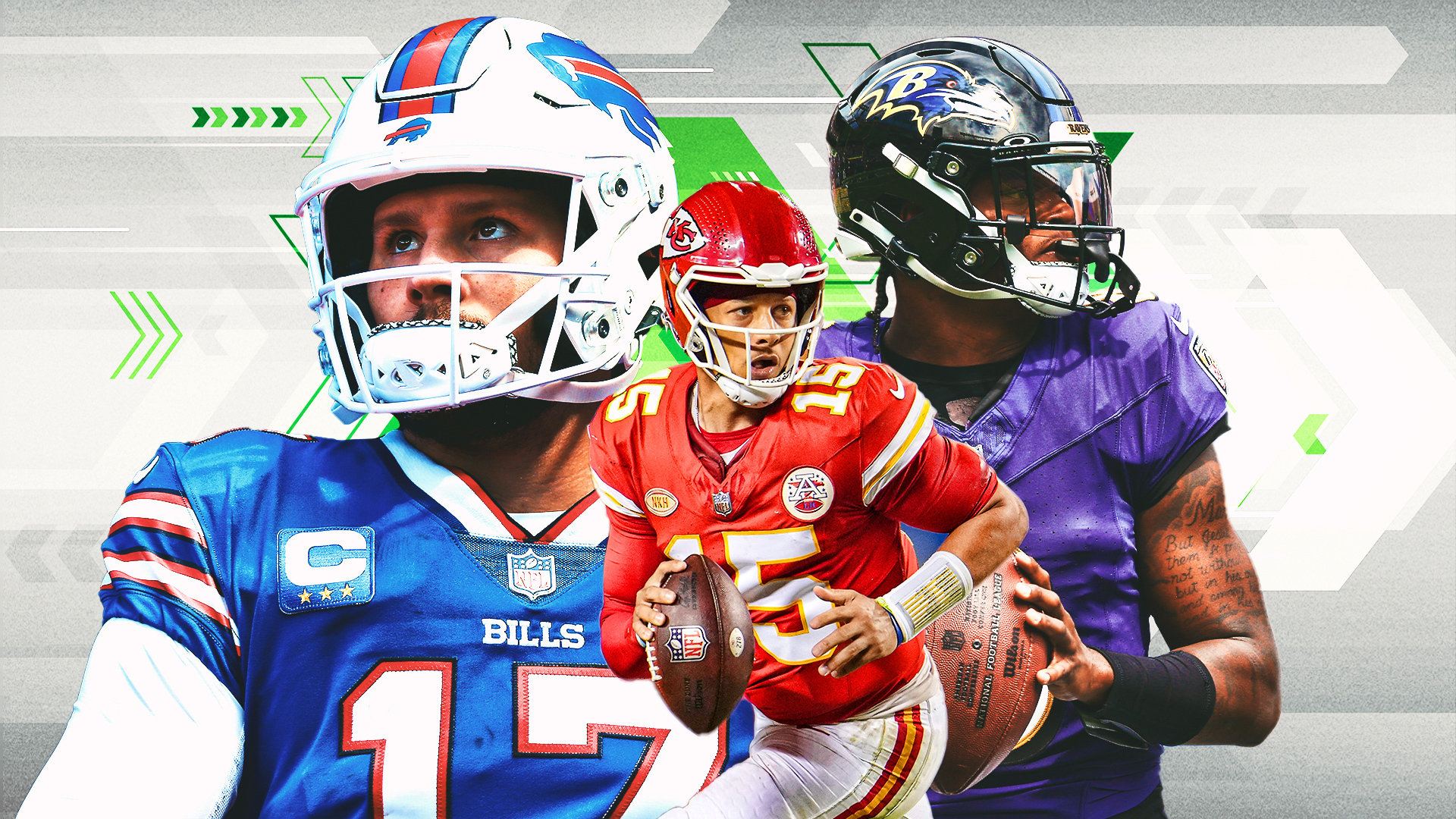 Week 4 was the perfect week to appreciate all the high-level quarterback play there is around the league right now. 
Josh Allen and Lamar Jackson played like the early-season MVP. Matthew Stafford went Terminator mode against the Colts. Dak Prescott and Brock Purdy were surgical, working the short and intermediate areas to run away with easy wins. Even rookies C.J. Stroud and Anthony Richardson showed everything you want to see from potential franchise quarterbacks. 
There's just a lot of good, promising football being played right now. 
Note: Each week, only the 32 starting quarterbacks will be ranked. For example, Arizona Cardinals QB Kyler Murray won't be on the list until he returns to action. The same will be true of any quarterback who misses time as the season progresses. 
1. Patrick Mahomes, Kansas City Chiefs
We've seen the two best quarterbacks in the league become hellbent on throwing interceptions after seeing Zach Wilson on the other side. I don't know what kind of dark magic is going on there. 
Patrick Mahomes was far from his best against the New York Jets. He was reduced to a lot of quick passing and checkdowns as a means to combat the Jets' relentless pass rush. In moments where Mahomes tried to create and make a play, it was a mixed bag. That's as much a fault with the Kansas City Chiefs' young receiving corps as it is with Mahomes, but the magic wasn't there the way it usually is. 
There's still no reason to move Mahomes, though. 
---
2. Josh Allen, Buffalo Bills
Sunday might have been the best game of Josh Allen's career. No single moment will top the end of the Chiefs playoff game a few years ago, but from start to finish, Allen's dismantling of the Miami Dolphins defense was as excellent as he's ever been. 
Allen magnificently toed the line between taking the easy ones and going for kill shots. Alongside a strong Buffalo Bills run game, Allen was picking apart the Dolphins underneath all day. The Dolphins kept giving him throws underneath, and he kept taking them.
Allen picked his spots to turn into a fire-breathing dragon. The hole shot touchdown to Gabe Davis, the laser to Stefon Diggs for a catch-and-run touchdown, the under-pressure shuffle before finding Diggs for a touchdown in the red zone; every time the Dolphins misstepped even a little bit, Allen was there to strike. 
If that's the Allen we get for a majority of the season, he will win MVP. 
---
3. Lamar Jackson, Baltimore Ravens
Lamar Jackson was out of his mind versus the Cleveland Browns. 
Out. Of. His. Mind. 
Cleveland had the best defense in the league coming into the weekend and it didn't matter. Jackson was cool as ice in the pocket. He hung in there to make difficult throws or work checkdowns when he had to but also found perfect opportunities to scramble. Jackson's ball placement to all three levels was immaculate. The top-shelf throw to Mark Andrews for a touchdown was a beauty, as was the 40-yard screamer to Zay Flowers on the run. 
Oh yeah, and Jackson didn't have his starting left tackle or two best receivers in the lineup. 
---
4. Justin Herbert, Los Angeles Chargers
Justin Herbert and the Los Angeles Chargers offense was a little uneven in their first game without Mike Williams. Herbert's trusty ball-winner and chain-mover wasn't there to give the offense the same amount of layups they are used to.
In Williams' absence, the Chargers didn't find the right role to make the most of first-round pick Quentin Johnston, who is less of a ball-winner and more of a large YAC monster. Hopefully, the offense will find some better answers in the coming weeks.  
---
5. Trevor Lawrence, Jacksonville Jaguars
Trevor Lawrence's game on Sunday was a West Coast coach's dream. Of Lawrence's 30 pass attempts, 24 were within 10 yards of the line of scrimmage. He was slicing and dicing the Falcons' defense in the short area and forcing them to come up and tackle. Lawrence executed at a high level and put the ball right where it needed to be, right when it needed to be there, over and over again. 
I still want to see the Jacksonville Jaguars unleash Lawrence and the offense. Lawrence has an outstanding arm and is more than willing to let 'er rip if you give him chances. 
---
6. Matthew Stafford, Los Angeles Rams
It's remarkable what Matthew Stafford is doing with a makeshift Los Angeles Rams offense. His best receivers are a fifth-round rookie (a very good one, to be clear) and a 165-pound gadget player. The offensive line is only marginally better than the trainwreck it was a season ago. And yet, Stafford continues to throw fireballs all over the field. 
The Indianapolis Colts game was no exception. Stafford unleashed a handful of special tight-window throws to keep things moving against a quietly impressive Indianapolis defense. 
The poise, decisiveness and ball placement Stafford is playing with is right in line with how he was playing when the Rams went to the Super Bowl in 2021. This Rams squad just isn't good enough to let him shine as bright as he can. Maybe that changes when Cooper Kupp returns to the lineup. 
---
7. Dak Prescott, Dallas Cowboys
Dak Prescott was in total command versus the New England Patriots. Prescott was carving the Patriots up underneath and taking his usual calculated shots to the intermediate range to Michael Gallup and CeeDee Lamb. Prescott hardly stepped a foot wrong, even against one of the best defenses in the league. 
It would be nice if Prescott and the Dallas Cowboys found more explosive plays down the field, but they have a decent formula right now. Prescott is as efficient as anyone in the 1-to-15-yard range, and that's allowing the team to sustain long, efficient scoring drives. 
---
8. Jalen Hurts, Philadelphia Eagles
Jalen Hurts is slowly but surely finding a groove in the Philadelphia Eagles' new offense. The consistency isn't quite there the same way it was last year, but Sunday's game against the Washington Commanders was a step in the right direction.
Hurts did well to pepper the Washington defense underneath while still picking a few spots to let it rip to his two stud receivers on the outside. 
---
9. Geno Smith, Seattle Seahawks
Geno Smith had a pedestrian performance versus the New York Giants on Monday night. He ripped a handful of tight-window throws but was otherwise more reserved and less efficient than normal. 
I'm willing to give him a pass, though. Smith suffered a knee injury on an arguably dirty hit in the first half and only sporadically looked like himself from that point on. 
Granted, it's not like Smith was lighting it up before that point, but I'm still bullish on his ability as one of the best pocket passers in the league. 
---
10. Tua Tagovailoa, Miami Dolphins
We saw the good and the bad with Tua Tagovailoa on Sunday. 
For about a quarter and a half, Tagovailoa and the offense was rolling. Tagovailoa got the ball out quickly and nailed a few good throws over the middle, par for the course.
Then left tackle Terron Armstead went out. The pass protection started to fall apart, slowing Tagovailoa and the offense's ability to win within structure. All the while, the Bills continued to rack up points of their own. 
That left the Miami Dolphins where they had to throw themselves back in the game. Tagovailoa struggled to meet the moment. All the run/pass conflict, play-action, and motion they use is a lot less threatening when the defense knows you've got to grip it and rip it. Tagovailoa couldn't work in muddy pockets or make much happen outside of structure, which has always been criticism of Tagovailoa that the Mike McDaniel offense has found good ways to hide. 
One mediocre game isn't going to drop Tagovailoa back down the rankings, but it's worth saying that those are the games that keep me from buying all the way in. 
---
11. Joe Burrow, Cincinnati Bengals
The Joe Burrow situation is untenable. Burrow can't play anywhere near his level right now because of the calf injury. 
As we've seen all year, Burrow was a quick passing merchant against the Tennessee Titans. He was accurate on a majority of his throws, but it didn't matter. The Titans knew all Burrow had in the bag were short passes and checkdowns. The defense had zero issues flying downhill to limit yards after the catch and limit the Bengals' offense to moving the ball four yards at a time. 
That's just not a serious approach to offensive football without Burrow being able to extend plays and create explosives on his own. 
---
12. Kirk Cousins, Minnesota Vikings
Kirk Cousins kind of had one of "those" Kirk Cousins games. 
For about 80 percent of plays, Cousins was who he usually is. He found a number of nice throws to Justin Jefferson and Jordan Addison. A few of the throws Cousins made into tight windows in the intermediate range were delightful, both over the middle and outside the numbers. 
However, Cousins put himself in a hole early with a pick-six at the goal line. Daniel Jones also did that this week, for reference. 
We've seen Cousins do that before, though. Sometimes the quarterback machine malfunctions a little bit. Cousins has mostly played well this season and that should continue. 
---
13. Jared Goff, Detroit Lions
Jared Goff can really sling it. When he's got time in the pocket and a target with even half a step over the middle of the field, Goff can contend with the best of them. Thankfully for him, the Green Bay Packers defense gave him those conditions for most of Thursday night's contest and he delivered. 
I am mildly concerned that Goff and the Detroit Lions offense continue to fall off in the second half compared to the first half, but it's working for now. They've got three months to figure it out before big boy football begins. 
---
14. Ryan Tannehill, Tennessee Titans
We might have to accept that the Titans offense as a whole is going to be a roller coaster this season. 
Structurally, the offense makes sense. They run the ball, and then they play-action pass to big-bodied receivers. It's not perfect, but Ryan Tannehill is the right quarterback to make it work, and the receivers can get some good matchups depending on the week. They got that this week against a Bengals defense that doesn't have very much size in the secondary. 
There are just going to be weeks where the offensive line completely craters and the offense has no shot at working the way it's designed. That was the case against the Browns in Week 3; that was not the case against the Bengals in Week 4. 
---
15. Russell Wilson, Denver Broncos
On one hand, Russell Wilson had his best game of the season in a 31-28 win over the Chicago Bears. You could see his growing confidence in the structure of the offense and, in turn, his execution got a lot cleaner. He fired some absolute lasers, including a touchdown strike to Courtland Sutton over the middle. (Russell Wilson — over the middle! How about that!)
On the other hand, it was the Bears. Chicago's defense is only kind of getting by for how bad they are because the Denver Broncos' defense is somehow worse. It would have been embarrassing if Wilson didn't shred this team. 
All that being said, this continues the trend of Wilson actually playing reasonably well this season. He's not who he was at his peak in Seattle, but the Broncos are getting a more controlled Wilson with flashes of the old magic. That's enough. 
---
16. Brock Purdy, San Francisco 49ers
Brock Purdy just keeps doing the thing. Though against a nameless Arizona Cardinals defense, Purdy was almost perfect. Purdy went 20 for 21 with 13.5 yards per pass and a touchdown. 
Now, some incredible YAC performances from Christian McCaffrey and Brandon Aiyuk play a part in that, but it wasn't that easy. Purdy was slinging that rock around. According to The Ringer's Ben Solak, Purdy's 8.6 air yards per attempt was the highest ever for any quarterback with at least 20 pass attempts and a 90 percent completion rate in a game. That's a pretty special accomplishment. 
I'm still of the belief that Kyle Shanahan and the Monstars are driving the ship here. This game doesn't necessarily change that, especially given how often Shanahan found ways to get McCaffrey matched up on edge defenders dropping into coverage. However, Purdy is running the offense at an incredibly high level right now. He'll continue crawling up the list if things continue at this pace. 
---
17 C.J. Stroud, Houston Texans
C.J. Stroud already looks like a pro's pro. There are some typical rookie mistakes littered throughout his film, but he's already playing the game at a high level. Stroud's anticipation, ball placement, and flashes of creation outside the pocket are all what you want to see from a franchise quarterback one month into it. 
This week's Steelers game may have been Stroud's "least" impressive performance of the season, and he still looked like a dang good player. The Houston Texans got themselves a real quarterback. 
---
18. Anthony Richardson, Indianapolis Colts
There are only two or three quarterbacks in the league as talented as Anthony Richardson. Even beyond what Richardson does as a runner, his arm talent is truly special. We saw some of that against the Rams on Sunday. 
Richardson uncorked a handful of outrageous throws down the field. None were more impressive than the 45-yard bomb he threw to Alec Pierce from a collapsed pocket with Aaron Donald bearing down on him. Richardson had no room to step up but let that thing go and put it on the money in tight coverage. 
While you still want some more consistency from Richardson in terms of accuracy, the rest is there. He's a tough, smart football player with ungodly flashes of arm talent down the field. The kind of throws that reside in the Mahomes/Allen/Herbert tier. 
---
19. Jordan Love, Green Bay Packers
Jordan Love had his worst game as a pro on Thursday night. The Lions pass rush was tearing Green Bay's offensive line apart, and Love had no answer for it. Even in situations when Love was clean, however, he missed throws and fired to covered receivers. Things picked up a little bit for him in the second half, but he dug himself into such a deficit that there was no coming back. 
These games were bound to happen, though. Love is a first-year starter, and the offense is flipped with young skill players. I'm willing to give Love some more time before moving him very much. 
---
20. Derek Carr, New Orleans Saints
I don't know why Derek Carr played on Sunday. Carr suffered an AC joint injury the week prior. With the offensive line playing as poorly as it is, an injured Carr was only going to lead to weaker play calling and less ability to push the ball down the field. 
That's exactly what we saw against the Tampa Bay Buccaneers. All Carr wanted to do was throw quick game and checkdowns. The handful of instances he tried to toss it down the field were hopeless heaves. 
All that said, I don't want to punish Carr too much for one week of play when he's clearly not 100 percent. He's better than he showed on Sunday. 
---
21. Mac Jones, New England Patriots
Mac Jones was actively rebelling against the offense in the Cowboys game. 
To this point in his career, Jones' entire skill set was built around sharp decision-making, timing, and ball placement. He's a point guard. Jones threw all of that out the window against the Cowboys. The endless pressure from the Cowboys' defense got to him, and he started short-circuiting entirely. 
Jones was eventually benched in the second half for Bailey Zappe once the game was out of hand. I think Jones can be better than what he showed on Sunday, but games like that are hard to forget. It's not like this Patriots offense is going to get any easier for him to run either, considering their lack of explosive potential. 
---
22. Jimmy Garoppolo, Las Vegas Raiders
Jimmy Garoppolo didn't play last week due to a concussion he suffered in Week 3. However, you saw some of Garoppolo's value even in his absence. The Raiders started rookie Aidan O'Connell in Garoppolo's place.
O'Connell, while he flashed some nice throws, took seven sacks. Garoppolo is far from perfect, but he's played a lot of football and has never been sacked seven times. 
---
23. Deshaun Watson, Cleveland Browns
Similar to Garoppolo, the dropoff between Deshaun Watson and his rookie backup, Dorian Thompson-Robinson, was clear last week. The Ravens front seven heated up Thompson-Robinson all game, and he had zero answers for it. Watson, for all his flaws, at least has more ability to scramble around and find plays on the move. 
We'll see what Watson can do when he returns to the lineup. 
---
24. Justin Fields, Chicago Bears
Justin Fields played the game of his life against the Broncos. He looked faster, more confident and more accurate than ever before. Fields hit throws in structure and in stride all day that he had only hit sporadically for the past two years and change. 
It's the Broncos, though. Denver has the worst defense in football right now. It's encouraging that Fields finally looked like a different quarterback, but he's got to prove it against a semi-competent defense before I'm ready to get excited. 
---
25. Baker Mayfield, Tampa Bay Buccaneers
Baker Mayfield is doing the Baker Mayfield thing again. Every so often, a team finds a way to cater to Baker's strengths as an intermediate thrower and get passable offense out of him. The Browns did it for stretches, the Rams did it last year, and the Buccaneers are doing it now. 
To his credit, Mayfield is also just playing better under pressure. He's less skittish in the pocket and less likely to bail on plays too early. You still get some of those moments, but there are far more instances of tough pocket management and staring down the barrel of the gun than Mayfield has typically shown. 
---
26. Daniel Jones, New York Giants
Daniel Jones is playing disgusting football right now. He's throwing interceptions left and right again, and he just took double-digit sacks versus a Seahawks pass rush that is nothing more than fine. Jones is back to the Joe Judge-era version of himself. 
I don't think the Giants' offensive situation in general is conducive to any success, though. The offensive line is bad and injured. The entire WR room is built out of WR3 types. TE Darren Waller isn't half of what they expected him to be. The theoretical saving grace of it all, Saquon Barkley, is battling injuries, too. 
Jones is playing poorly, and the offense is feeding into all of his worst traits. It's a nasty, nasty situation. If this continues, Jones is primed to tumble even further. 
>> READ: Jones Took Huge Step Back
---
27. Desmond Ridder, Atlanta Falcons
It's got to come together for Desmond Ridder at some point. For someone whose defining traits are supposed to be command at the line and confidence throwing into tight windows, Ridder has been sporadic mentally. He's not attacking windows the way he should be, and he doesn't have the accuracy or arm strength to make up for it. 
Ridder still has his moments, but the flashes are so few and far between. Ridder has to become more consistent, especially early in games, or he's going to be out of a starting job soon. 
---
28. Kenny Pickett, Pittsburgh Steelers
Kenny Pickett just hasn't taken the step the Pittsburgh Steelers were hoping for. Granted, Matt Canada's offense is constantly putting Pickett in poor positions, but the reality is Pickett doesn't really have any of the tools to overcome that right now. Pickett's arm is average, and he's not exactly the game-breaking athlete that Josh Allen is, despite always trying to play like he is. 
Unfortunately, the road is only getting tougher for Pickett now that he's dealing with a bone bruise. Pickett's status to play this week is up in the air, but it's hard to imagine playing him is a good idea. It might be better to try and survive a Mitchell Trubisky start and let Pickett get back to full health. Throwing him to the wolves at less than 100 percent when he's already been struggling isn't good for anyone. 
---
29. Bryce Young, Carolina Panthers
The Carolina Panthers haven't figured out how to make the offense work with Bryce Young's skill set yet. Half of their calls against the Vikings' blitz-heavy attack on Sunday were screen throws. They didn't trust Young, the OL or the WR room to make anything else happen. 
Young made a few tasty throws over the middle but little else. That's not enough to sustain a good offense. Young needs to start playing better and the Panthers have to find more answers to get him going. 
---
30. Sam Howell, Washington Commanders
No quarterback has been as volatile as Sam Howell this season. Every game is either a dream or a nightmare. Sometimes that means a nine-sack, four-interception day against the Bills. But when things break right, you get Howell taking the Eagles down to the wire.
I can't get all the way there with Howell until the consistency improves, though. The flashes are mesmerizing, but his bad plays and games are as back-breaking as anyone in the league. Hopefully, Howell can put together a stable stretch at some point this season. 
---
31. Josh Dobbs, Arizona Cardinals
Josh Dobbs continues to play admirably for a backup thrust into a starting role. Dobbs was never going to outgun the San Francisco 49ers, but he at least held his own.
Dobbs did well to make the throws available to him and use his legs as a means to raise the floor of the offense. It's not perfect, but it's enough to make the Cardinals look more respectable than they should be. 
---
32.  Zach Wilson, New York Jets
The Zach Wilson we saw on Sunday night was the best version of Zach Wilson we've seen in the pros. Though still up and down, Wilson actually strung together drives and played within himself. He rifled in some tough throws over the middle and largely avoided the brainless mistakes that plagued him before. 
Wilson still has a lot to prove, but simply not derailing the offense is a good start. 
---
Derrik Klassen is an NFL and NFL Draft film analyst with a particular interest in quarterbacks. Klassen's work is also featured on Bleacher Report and Reception Perception. You can follow him on Twitter (X) at @QBKlass.