NFL Analysis
11/20/23
13 min read
2024 NFL Mock Draft: Latest First Round Predictions After Week 11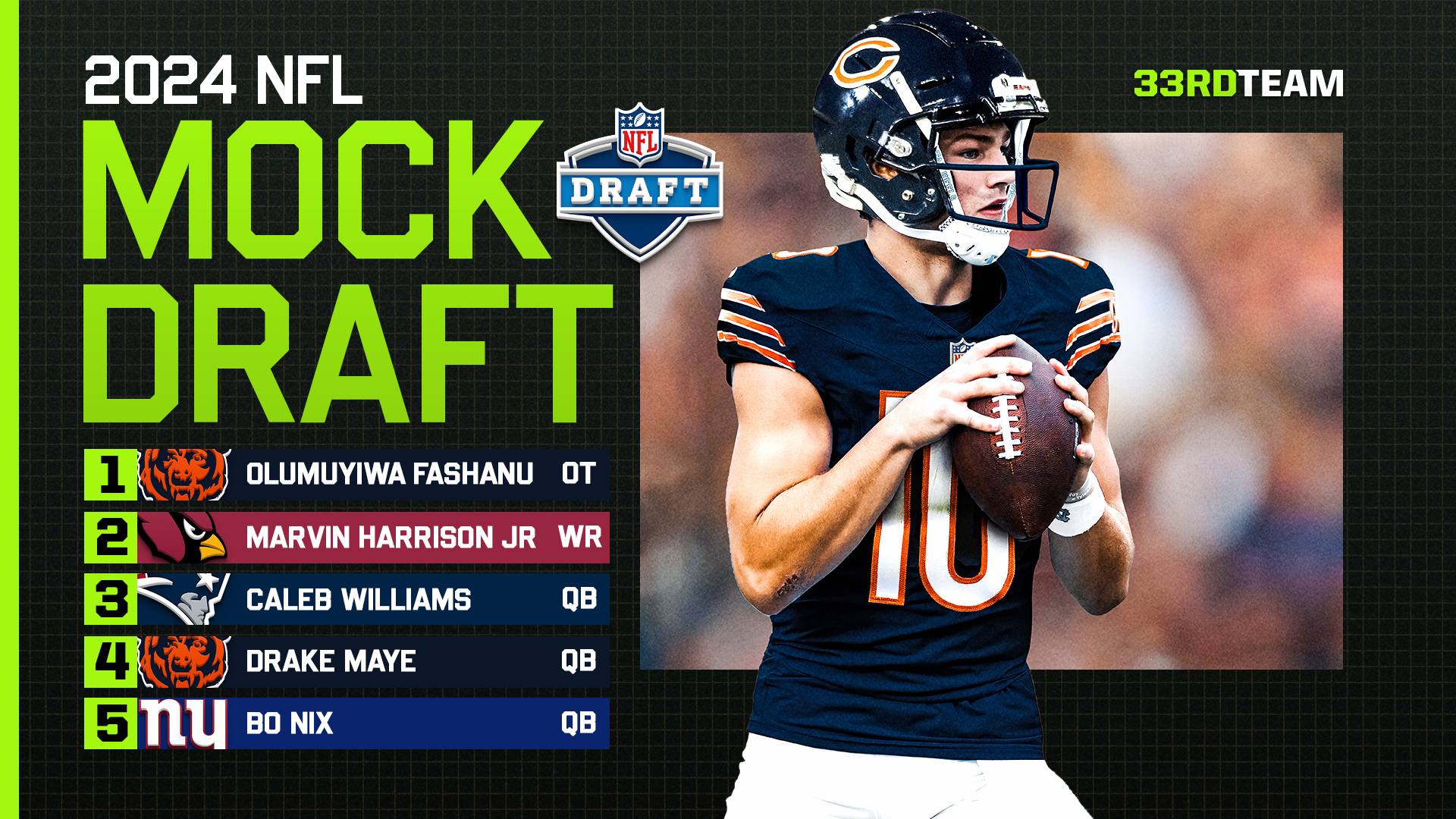 After a lackluster week of matchups in Week 11, teams coming out on the losing end are one step closer to preparing for the 2024 offseason.
The New York Giants pulled an upset over the Washington Commanders and are playing themselves out of the QB1 spot, which might be the worst thing the Giants could do for their long-term outlook. Even with Sunday's win, they should still have a shot at a potential top-three to -four pick.
Let's dive into it and see how things played out this week.
Latest 2024 NFL Mock Draft
1. Chicago Bears
Olumuyiwa Fashanu, OT, Penn State
A year after drafting their franchise right tackle in Darnell Wright, the Chicago Bears come back in 2024 and secure their bookend offensive tackles for the foreseeable future. Olu Fashanu is the safest prospect in this draft class and will provide ideal protection for whoever is handed the keys to the Chicago offense in 2024.
---
2. Arizona Cardinals
Marvin Harrison Jr., WR, Ohio State
While quarterback should be in the conversation here, rolling with Kyler Murray and adding weapons is likely the smarter decision. Outside of Fashanu, Marvin Harrison Jr. is the top offensive player in this draft. The addition of Harrison Jr. to the Arizona Cardinals offense would provide it with multiple weapons to help take some of the pressure off of Murray's shoulders and give the Cardinals options with WR Marquise Brown's contract expiring at the end of the season.
---
3. New England Patriots
Caleb Williams, QB, USC
After an impressive rookie season, New England Patriots QB Mac Jones has had quite the fall from grace. After multiple benchings in 2023, the Patriots turn to the quarterback position to try to replicate the Tom Brady era in New England. Caleb Williams' arm talent and play-making skills provide the New England offense with a much higher ceiling than what it's had since Brady's departure.
---
4. Chicago Bears
Drake Maye, QB, UNC
Justin Fields is auditioning for the Bears' starting quarterback job for the remainder of the season, and the team could look to replace him even if he is on the roster in 2024. Holding two top-five picks in the NFL Draft is not something teams get very often. While Fields could earn himself more leash, adding a quarterback to the mix is likely the best decision for the Bears long-term because Fields has not shown enough to warrant passing on a quarterback of Drake Maye's caliber.
---
5. New York Giants
Bo Nix, QB, Oregon
One of the biggest surprises of the weekend was the Giants defeating the Commanders. While it was a big win for the Giants, it also took them out of the Williams and Maye sweepstakes for now. Anyway you look at it, the Giants should and likely will use their top-five pick on their next franchise quarterback. Daniel Jones is likely to miss a good portion of the 2024 season recovering from a torn ACL and has yet to show he's the long-term answer, despite receiving a rather large contract last offseason.
---
6. Tennessee Titans
Joe Alt, OT, Notre Dame
Offensive tackle is one of the biggest needs for the Tennessee Titans. The good news for them is one of their biggest needs and one of the best values in the top 10 is Notre Dame OT Joe Alt. Alt would slide in and immediately upgrade the Titans' tackle situation because free-agent signing Andre Dillard has been a big disappointment on the left.
---
7. Washington Commanders
Nate Wiggins, CB, Clemson
One of the most embarrassing losses of the weekend belongs to the Commanders. Their secondary has been a major issue all season, but allowing Tommy DeVito to throw for 246 yards and three touchdowns is the definition of "down bad." This weekend, Nate Wiggins showed the caliber player he is by picking off Maye and making multiple splash plays against a talented UNC offense.
---
8. Atlanta Falcons
Michael Penix Jr., QB, Washington
I don't believe the Atlanta Falcons need to draft a quarterback here, but they have not shown much confidence in second-year quarterback Desmond Ridder. Michael Penix Jr. has led Washington to a 11-0 record and will be a Heisman finalist at the end of the season. The Falcons-Penix marriage might not be a bad one for either party, because Penix still has some developing to do and the Falcons could let him sit behind Ridder until they are ready to hand over the reins.
---
9. Green Bay Packers
Kool-Aid McKinstry, CB, Alabama
The Green Bay Packers need to look at upgrading their offense, but with Jaire Alexander struggling to stay healthy and the team trading away Rasul Douglas at the deadline, adding to the cornerback room and the value of Kool-Aid McKinstry is too good to pass up inside the top 10.
---
10. Tampa Bay Buccaneers
Laiatu Latu, EDGE, UCLA
The Tampa Bay Buccaneers are near the bottom of the league in sacks and despite needing some help on offense, the value here for Laiatu Latu is too good to pass up. Latu is the most pro-ready pass rusher in this class, showing the ability to win with speed, power and technique. The addition of Latu would work to get the Buccaneers' defensive line back to what it was when it won the Super Bowl in 2021.
---
11. New York Jets
Rome Odunze, WR, Washington
The New York Jets have a ton of bodies at wide receiver, but Garrett Wilson is the only one who is a consistent threat to opposing defenses. Adding Washington WR Rome Odunze to the room would give the Jets one of the best young NFL receiving rooms.
---
12. Los Angeles Chargers
Kalen King, CB, Penn State
Another week, another disappointing loss for the Los Angeles Chargers that involved their defense's inability to get a stop when it mattered most. The Chargers must improve on all three levels of their defense, but improving a secondary that has gotten torched through the air the past few seasons is likely the top priority in a draft class loaded with talented corners — such as Kalen King.
---
13. Los Angeles Rams
Brock Bowers, TE, Georgia
The Los Angeles Rams need to invest in their defense, but the value here with Georgia TE Brock Bowers is a blinking light for Sean McVay. Pairing Bowers with Cooper Kupp would make the offense very tough to defend. It's likely impossible for the Rams to completely rebuild their defense in one offseason, so their best bet may be to try and out-score opponents as they go through their defensive rebuild.
---
14. Las Vegas Raiders
Jayden Daniels, QB, LSU
A common theme in these mock drafts is the Las Vegas Raiders drafting a quarterback with their first overall pick. That doesn't change today, but we do have a new quarterback taking over the QB4 spot. LSU QB Jayden Daniels has entered into the Heisman conversation with his play this season, and the Raiders would get some excellent value here with an ascending quarterback prospect.
---
15. Indianapolis Colts
Malik Nabers, WR, LSU
Outside of Michael Pittman, who is a free agent at the end of the season, the Indianapolis Colts lack weapons on offense. Josh Downs has had a solid start to his NFL career, but adding Malik Nabers' talent to the receiver room would give the Colts more threats on the outside to take some pressure off Anthony Richardson. Nabers has legit WR1 ability and would be an excellent addition even if Pittman is re-signed.
---
16. Denver Broncos
Chop Robinson, EDGE, Penn State
The Denver Broncos' defense has figured some things out over the last few games, but adding to the pass rush should be a top priority heading into the draft. Penn State EDGE Chop Robinson is the highest-ceiling pass rusher in this class given his length and quickness off the edge, and he would greatly improve a Broncos pass rush that ranks 30th in the NFL in sacks.
---
17. Cincinnati Bengals
Amarius Mims, OT, Georgia
Protecting Joe Burrow needed to be the priority before he suffered his season-ending injury Thursday against the Ravens. That has become an even bigger priority now. The Cincinnati Bengals have had issues protecting Burrow since he entered the league, and investing in Amarius Mims would be one of the best decisions they could make.
---
18. Buffalo Bills
Keon Coleman, WR, Florida State
The addition and resurgence of Dalton Kincaid has been a nice compliment to Stefon Diggs, but adding another outside threat could get the Buffalo Bills' offense back to what we are used to seeing. Keon Coleman offers a unique skill set that the Bills currently lack on offense.
---
19. New Orleans Saints
Jared Verse, EDGE, Florida State
There are multiple directions the New Orleans Saints could go with their first-round pick. With Florida State EDGE Jared Verse still on the board, it would be hard to pass on the value as a premier position. Cam Jordan is 34, and adding to the trenches is never a bad idea.
---
20. Minnesota Vikings
J.J. McCarthy, QB, Michigan
While the last few weeks have not been as kind to Michigan QB J.J. McCarthy, there's a reason we evaluate the whole picture. The situation McCarthy lands in is going to be very important for the general success of this pick. Landing with Kevin O'Connell and the Minnesota Vikings would be mutually beneficial for McCarthy and the Vikings.
---
21. Arizona Cardinals
*From Houston
Dallas Turner, EDGE, Alabama
It's been an up-and-down season for the Arizona Cardinals' defense. It ranks 30th in defensive EPA/play and 31st in success rate. While the Cardinals rank highly in the NFL in terms of sacks, they need to be better on third downs. Dallas Turner is a high-upside rusher out of Alabama, which is known for putting pass rushers into the NFL.
---
22. Seattle Seahawks
Bralen Trice, EDGE, Washington
One of my favorite pairings in the 2024 NFL Draft is Bralen Trice to the Seattle Seahawks. The Seahawks love versatile defensive linemen who can get after the quarterback, and Trice fits that description to a T.
---
23. Pittsburgh Steelers
Cooper DeJean, CB, Iowa
The strength of the Pittsburgh Steelers' defense is its pass rush, but the coverage unit has been susceptible to getting beat for most of the season. Iowa DB Cooper DeJean can line up all over the backend for the Steelers and would allow T.J. Watt and Alex Highsmith to be even more productive because of better coverage.
---
24. Houston Texans
*From Cleveland
JC Latham, OT, Alabama
Laremy Tunsil has been one of the NFL's best left tackles since entering the league, but right tackle has not been as secure for the Houston Texans. The Texans are getting tremendous play from rookie QB C.J. Stroud, and the best way to keep that going is to provide him with protection and weapons. They answer the bell here with a long-term answer at right tackle with Alabama's JC Latham.
---
25. Miami Dolphins
Jer'Zhan Newton, iDL, Illinois
The Miami Dolphins defense relies far too much on Christian Wilkins and Jaelan Phillips to generate pressure. Adding a talent of Jer'Zhan Newton's caliber would instantly improve a unit that has struggled to generate consistent results in 2023. Newton's pass-rush ability from the interior would open up more 1-on-1 opportunities for Phillips and Wilkins, which is a scary thing for opposing offenses.
---
26. Dallas Cowboys
Troy Franklin, WR, Oregon
Brandin Cooks will hit free agency, and Michael Gallup likely will be a cap casualty, so adding to the wide receiver room to take pressure off of CeeDee Lamb is at the top of the Dallas Cowboys' needs heading into the offseason. Troy Franklin is one of college football's most dangerous wideouts, and his 13 receiving touchdowns could help Dallas improve its red-zone struggles and replace Cooks' big-play threat if he walks.
---
27. San Francisco 49ers
Taliese Fuaga, OT, Oregon State
Penciling in a right tackle for the San Francisco 49ers' first-round pick is wise. Colton McKivitz has been the weak link so far for an offense that does not possess many weak links. Oregon State OT Taliese Fuaga fills a need for the 49ers and is a tremendous value at the backend of the first round. This is a perfect fit for the player and the team, which already possesses one of the NFL's best rosters.
---
28. Jacksonville Jaguars
Tyler Nubin, S, Minnesota
It's rare to see safeties land in the first round nowadays, but Minnesota S Tyler Nubin deserves to be in the conversation. Nubin fills a need for the Jacksonville Jaguars as a versatile defensive back, but his ball production and coverage skills would vastly improve the Jacksonville defense from Day 1.
---
29. Baltimore Ravens
Leonard Taylor, IDL, Miami
The Baltimore Ravens have been one of the NFL's best drafting teams in recent memory. Why is that? They consistently spend valuable picks on the offensive and defensive line. Justin Madubuike, Michael Pierce and Brent Urban will be free agents at the end of the season, leaving plenty of holes along the interior defensive line. Miami's Leonard Taylor III would fill a huge need while providing some big-time juice as an interior rusher.
---
30. Detroit Lions
J.T. Tuimoloau, EDGE, Ohio State
Aidan Hutchinson has been everything you can dream of in a top-five pick, but there's no such thing as too much pass rush. J.T. Tuimoloau's game has some Hutchinson to it, leaning on his motor and relentlessness. The Detroit Lions defense has had some issues with consistency so far this season, and bolstering the defensive line makes sense late in Round 1.
---
31. Kansas City Chiefs
Emeka Egbuka, WR, Ohio State
It's no secret the Kansas City Chiefs need wide receiver help. While it may be a bit of a surprise that Ohio State's Emeka Egbuka will last this long, this loaded wide receiver class could have a few guys fall a little later than expected due to the position's depth. Egbuka would be a home run of a selection for Kansas City, giving Patrick Mahomes a legit WR1 threat to pair with the NFL's best tight end.
---
32. Philadelphia Eagles
Kamren Kinchens, S, Miami
You have to appreciate the efforts from Reed Blankenship over the last few seasons, but I don't think a roster as talented as the Philadelphia Eagles will want to make him their long-term answer at safety next to Kevin Byard. Kamren Kinchens plays all over the secondary for Miami and would do the same in Philadelphia. The Eagles have been gashed in the middle of the field this year due to a lack of coverage in the nickel because of Avonte Maddox's injury and inconsistency at safety, so Kinchens fills a big need for the Eagles as they continue to compete for Super Bowls.