Analysis
7/24/23
10 min read
Ranking NFL's 11 Best Safeties of All-Time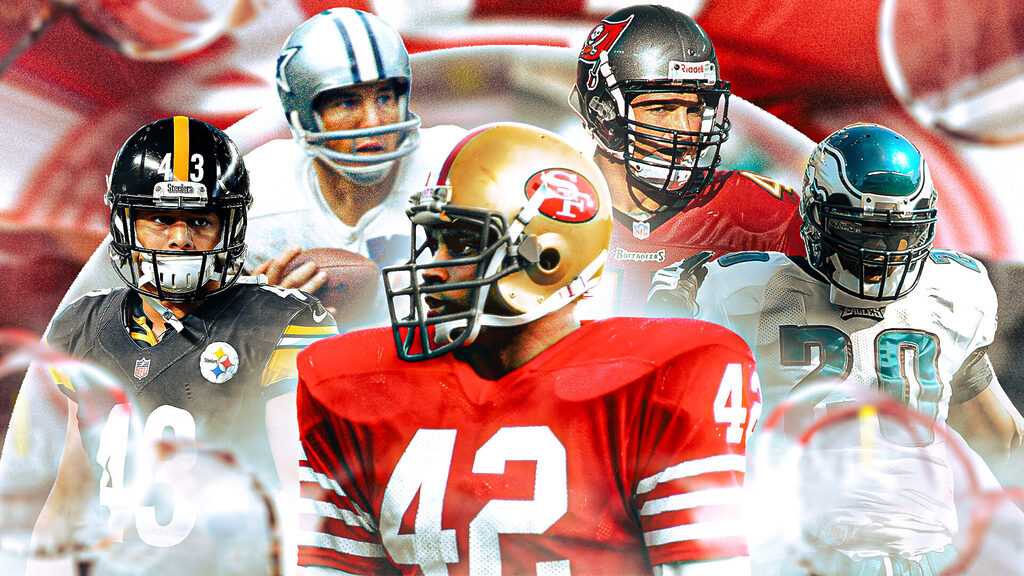 Ranking the top 11 safeties of all time was an even harder task than ranking linebackers.
First, some truly great players played the position only at the end of their careers. Although they played the position at a very high level, Charles Woodson (the last four years of his 18-year career), Rod Woodson (the last five years of his 17-year career) and Aeneas Williams (the last two years of his 14-year career) will not be on this list.
Historically, statistics mean less at this position than others. That's why Paul Krause (NFL's all-time leader with 81 interceptions) is not on the list. It is not advisable to rely on statistics other than interceptions for this position when you go back just a few years. Also, longevity alone doesn't guarantee a spot on this list.
The two players with safety as their primary position that have played the most games are Eugene Robinson (250 games) and Lawyer Milloy (234 games). They were fine players, but not in the top 11.
But attendance still matters. Bob Sanders was the Defensive Player of the Year in 2007, but injuries kept him from playing longer. Washington's Sean Taylor was killed at 24, ending the promising career of someone who could have been an all-time great.
My friend Rodney Harrison falls just short of the top 11, although it is my sincere hope he is soon enshrined in the Hall of Fame. The best safety on my all-time favorite team — the Raiders' Jack Tatum — also falls short.
>>READ: Ranking 11 Greatest Linebackers
There's a lot of history to acknowledge, so let's start:
11 Greatest NFL Safeties
11. Emlen Tunnell
Emlen Tunnell was one of the greatest safeties to play the game. He played 14 years, 11 with the New York Giants in a career that ended in 1961. He was the first Black player signed by the Giants, the first Black player to be inducted into the Hall of Fame and (according to Tunnell's 1975 obituary in The New York Times) the first Black person hired to a coaching position in the NFL's modern era.
In 1952, Tunnell gained more yards (923) on interceptions and kickoff returns than the NFL rushing leader did running the ball. He earned the nickname "offense on defense." Tunnell was selected All-NFL four times and played in nine Pro Bowls.
It is a back story that needs to be remembered. He played college football at Toledo, where he broke his neck and was given last rites. The Army and Navy rejected his enlistment. The Coast Guard accepted him, and he became an American hero in WWII. Tunnell was on a ship that was twice torpedoed, receiving the Silver Lifesaving Medal for heroism in rescuing a shipmate from flames and rescuing another shipmate who fell into the sea in 1946.
He intercepted a then-record 79 passes in his 14 seasons with the Giants and Green Bay Packers. He was certainly the best safety that played in the 1950s.
---
10. John Lynch
What an amazing football life: success as a general manager, success as a broadcaster and a playing career that was so special he was inducted into the Ring of Honor in Tampa Bay and Denver.
Lynch was a four-time All-Pro and nine-time Pro Bowl selection. He played in 224 games, registering 1,277 tackles, 13 sacks, 26 interceptions, 16 forced fumbles, eight fumble recoveries and 100 passes defensed. He was a big part of the Tampa Bay Buccaneers' title team in Super Bowl XXXVII.
His coach with Tampa Bay, Tony Dungy, told me how tough and aggressive Lynch was and his knack for coming up with big plays. "You can't believe how many times in a big moment — in a big game — he would knock a pass down or make a tackle on third down."
One of seven players in NFL history to make at least four Pro Bowls with multiple teams (Tampa Bay – 5; Denver – 4). His nine Pro Bowl selections rank second in NFL history among safeties, behind Pro Football Hall of Famer Ken Houston (10). He was a strong safety in Tampa and a free safety with the Denver Broncos. He's a top-10 safety at either spot and with either franchise.
---
9. Johnny Robinson
Johnny Robinson was a great free safety who played his entire career with the Dallas Texans/Kansas City Chiefs from 1960 to 1971. He was selected to the AFL's All-Time Team. He was also recognized as a member of the All-Decade Team of the 1960s. Robinson ended his career with 57 interceptions. Get this: The Chiefs record was 35-3-1 in games when he had an interception.
In Super Bowl IV, the Chiefs' first Super Bowl victory, Robinson started and had a fumble recovery and an interception. Call me an AFL/AFC guy, but I'm putting Robinson in instead of Willie Wood, Robinson's contemporary from the Packers and Super Bowl I opponent.
---
8. Cliff Harris
It might seem hard to believe, but there was a time when the Dallas Cowboys went to the Super Bowl … a lot. Harris played in seven NFC Championship Games and five Super Bowls (including wins in Super Bowl VI and XII).
Harris, who earned the nickname "Captain Crash" by his teammates for his punishing hits and reckless pursuit of ball carriers, finished his 10-year Cowboys career with 29 interceptions and 16 fumble recoveries — tied for second in team history. He also guided the defense to a top-10 finish in each of his 10 seasons with Dallas, including the best defense in the league in 1977.
---
7. Donnie Shell
The Pittsburgh Steelers selected future Hall of Famers Lynn Swann (first round), Jack Lambert (second), John Stallworth (fourth) and Mike Webster (fifth) in the 1974 NFL Draft. It's the best draft in NFL history. But wait, there's more. Following the draft, the Steelers also signed free agent Donnie Shell. Shell remained with the franchise until 1987, a vital cog in the success of the Steel Curtain defense.
Following the 1978 season, Shell was chosen to the first of five consecutive Pro Bowl teams. He was also selected first- or second-team All-Pro five times, from 1978 through 1982.
Dungy told me about his former teammate: "Donnie could play in the box like a linebacker and tackle Earl Campbell, and then was also so skilled at blitzing. He was very physical and had great ball skills."
He had 51 interceptions, 19 forced fumbles and 19 fumble recoveries. His 51 interceptions made him the first strong safety in the history of the National Football League to surpass the 50-interception mark.
---
6. Larry Wilson
Wilson played for the St. Louis Cardinals from 1960-1971. Wilson won first- or second-team all-league honors seven times and played in eight Pro Bowls. In 1966, he intercepted a pass in seven consecutive games.
This is the player that made the safety blitz famous. At least, that is what I always heard. According to Wilson's profile on the Pro Football Hall of Fame website, "contrary to popular belief, however, he did not invent the safety blitz, but he did capitalize on the maneuver to a degree not reached by any other pro player of the decade."
You know what they say about when the legend becomes fact. Print the legend.
---
5. Brian Dawkins
A second-round pick out of Clemson in 1996, Dawkins was recognized as a member of the NFL's All-Decade Team of the 2000s, was voted the starting safety on the Philadelphia Eagles 75th Anniversary Team, was a five-time All-Pro selection and nine-time Pro Bowler.
Dawkins played 224 career games with the Eagles (1996-2008) and the Broncos (2009-2011). He amassed 1,131 tackles (895 solo), intercepted 37 passes, which he returned for 513 yards and two touchdowns, recorded 26 sacks and made 19 fumble recoveries.
In the 2004 NFC Championship Game, Dawkins had a tackle, two passes defensed, one forced fumble and an interception returned for 19 yards. The Eagles defeated the Falcons, 27-10, and advanced to the Super Bowl.
---
4. Troy Polamalu
"The Tasmanian Devil" was selected by the Steelers with the 16th overall selection of the 2003 Draft. Polamalu was selected to eight Pro Bowls, received First Team All-Pro honors four times, Second Team All-Pro twice and was named AFC Defensive Player of the Year in 2010.
Polamalu was a big part of the Steelers' championships following the 2005 and 2008 seasons. In the AFC Championship Game, Polamalu's interception and 40-yard return for a touchdown with just more than four minutes remaining vaulted Pittsburgh over Baltimore (as CBS broadcaster Jim Nantz put it, "It looks like No. 43 (Polamalu) was sending the Steelers to Super Bowl XLIII."
---
3. Kenny Houston
He played for the Houston Oilers from 1967-72 and then was traded to Washington, with whom he played from 1973-80. He was the premier strong safety of the 1970s.
Houston was voted to 12 Pro Bowls, made First- or Second-Team All-Pro 12 times, and voted to the 1970s All-Decade Team and the NFL's 75th and 100th All-Time Teams. He was known for his long and brilliant career, but also for a single play in a regular season Monday Night Football game in 1973. The game featured Dallas and Washington. The Cowboys had the ball with 24 seconds remaining in the game, fourth-and-goal from the 4-yard line.
Craig Morton found Walt Garrison over the middle at the one. Houston wrapped his arms around the fullback and drove Garrison backward. Washington won the game.
---
2. Ed Reed
The Baltimore Ravens selected Ed Reed from the University of Miami (Fla.) in the first round (24th overall) of the 2002 NFL Draft. That meant Reed would be teammates with linebacker Ray Lewis. It was a combination that united the second-best linebacker ever and the second-best safety ever. Too bad they never played with a Hall of Fame-caliber quarterback.
A nine-time Pro Bowler, Reed was named All-Pro six times and the NFL Defensive Player of the Year in 2004. Reed was also named to the NFL All-Decade Team of the 2000s.
Reed played in 15 postseason games and shares a record-tying nine postseason interceptions. One came in Super Bowl XLVII against the San Francisco 49ers, when Baltimore prevailed, 34-31.
While playing for the Ravens from 2002 to 2012, Reed had 61 interceptions. That led the NFL during that span and way more than the next closest (Asante Samuel had 50 picks in that span, and Charles Woodson had 44). No one was within 400 yards of Reed's 1,541 interception-return yards from 2002 to 2012.
---
1. Ronnie Lott
In the 1981 NFL Draft, the Giants selected the greatest linebacker in the game with the No. 2 overall pick. Just a few picks later, the greatest safety in the history of the game was selected by the 49ers with the No. 8 overall pick.
Lawrence Taylor or Lott would be a key contributor on a Super Bowl-winning team in six of the next 10 seasons. Lott played 20 postseason games, and his teams were 14-6. Three of Lott's defeats were to Taylor's Giants.
Lott intercepted nine passes in his 20 postseason games. In his first-ever playoff game, he had five tackles and two interceptions (one returned for a touchdown) in a victory against the Giants.
Yes, the greatest linebacker was more of a defensive lineman, and the greatest safety was a cornerback for the first four seasons of his career. Let's amend that. Maybe Taylor and Lott were simply the two best defensive players ever.
Ronnie could — and did — play anywhere. He was a left cornerback and a right cornerback. He was a strong safety and a free safety. Lott was at his best when playing free safety.
In 1986, his first season as a free safety, he played 14 games. He had 10 interceptions, forced three fumbles and had two sacks. It wasn't merely the stats. He was among the most ferocious and feared players in the league's history.
---
Elliott Kalb has been known in the sports television industry as "Mr. Stats" for more than 35 years. He is a 13-time Sports Emmy winner as a writer, researcher and producer. Follow him on Twitter @MrStats50.