Analysis
7/31/23
11 min read
NFL's 11 Greatest WR Duos of All-Time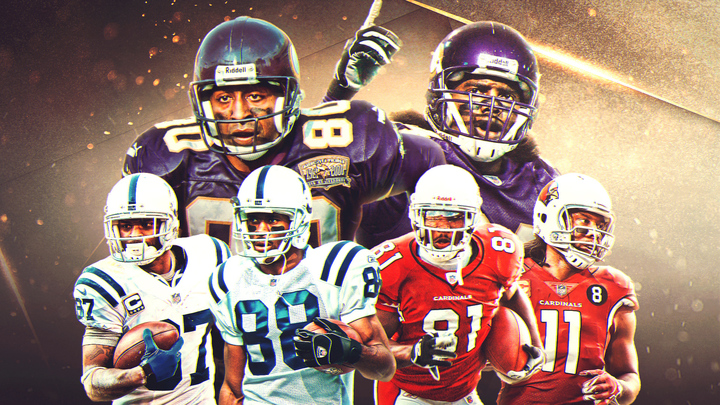 The greatest wide receiver duos of all time mean just that. It doesn't mean production from one wide receiver and one tight end or one wide receiver and one running back. It doesn't mean the best production from three wideouts, either.
That means don't expect to see tight end Travis Kelce on this list. Kelce has led the Kansas City Chiefs in receptions in six of the past seven seasons (and finished second the other year), but he's not a wide receiver.
It's not always going to be based purely on numbers, either. In 1995, the Detroit Lions averaged more than 27 points per game with an Air Coryell offense under coach Wayne Fontes. Herman Moore and Brett Perriman combined for 231 catches for 3,174 yards (still the record for a pair of wide receivers in the same year) and 23 touchdowns.
But I'm not going to put Moore/Perriman as one of the greatest wide receiver duos ever. Perriman had a 10-year career and was never named to a single Pro Bowl. He also never came close to approaching his production in '95. Moore was a legit wide receiver with three big seasons in a row.
However, opposing defenses had a primary goal against those Lions: stop Barry Sanders. The unstoppable  No. 20 had 362 touches in 1995. Defenses were ecstatic when Scott Mitchell threw the ball. Mitchell, Moore and Perriman had outstanding seasons thanks to Sanders getting the "lion's share" of attention.
Name value and past performance also don't move duos up on this list. Jerry Rice and Terrell Owens played together for five seasons beginning in 1996. Rice was far past his peak, and Owens was far from reaching his. In Owens' first four seasons, he averaged just more than 53 yards receiving a game and didn't make a Pro Bowl. The rest of Owens' career he averaged over 80 yards a game. Rice was in his mid-30s and his 10 best seasons were in the rearview mirror.
I will give an Honorable Mention to the Texans' duo in 2013-2014 when DeAndre Hopkins and Andre Johnson were teammates. Johnson was a matchup problem for everyone, a big receiver with the ability to beat opponents with the deep ball and crafty enough to run great routes. He beat teams that way—and still had a lot left in his 11th and 12th seasons with the club. In 2014, the Texans improved from 2-14 to 9-7 with Hopkins becoming more and more a part of the offense.
One more caveat: You may notice a slighting of more historic wide receiver duos. Simply put, modern receivers are facing bigger, stronger, faster defensive players and more sophisticated defensive schemes. I've admitted being a lifelong Raiders fan, and yet I must ask myself: Could Hall of Famers Fred Biletnikoff and Cliff Branch (the duo that flourished in the 1970s) be dominant in today's game? Not saying Biletnikoff didn't have speed or that Branch didn't have good hands, but, let's be honest, they had distinct roles.
Also when the running game was more prevalent, wide receivers had to be excellent blockers. Kudos to those who were also great receivers (looking at you, Hines Ward). But the best wide receiver duos — in my opinion — are the best pair of receivers in or close to their prime who didn't benefit from another offensive weapon getting the lion's share of the defensive team's attention.
Top 11 WR Duos of all time
11. Eagles: A.J. Brown, DeVonta Smith
The top nine duos on this list had to perform at a high level for more than one year. But surely there is a place for some active duos, including Philadelphia's A.J.Brown and DeVonta Smith.
Remember Super Bowl LVII? Brown and Smith were targeted a combined 17 times. They had 13 receptions for 196 yards (100 for Smith, 96 for Brown) with a touchdown. Both had a 45-yard reception. Down 35-27 with 7:25 to go in the game, Jalen Hurts faced second and 11 from his 35.
He completed a pass to Brown for 7 yards, then another to Brown for 11 yards, and then a deep pass to Smith for 45 yards down to Kansas City's 2-yard line. If the Philadelphia Eagles' defense could have made one more stop, that wide receiver duo was going to score.
Even though it's only one season together, it was a long season (20 games counting the postseason).
| | | | | | | | |
| --- | --- | --- | --- | --- | --- | --- | --- |
| 2022 inc. PS | Targets | Receptions | Yards | Avg. | YAC/rec | Av/Target | TD |
| A.J. Brown | 167 | 101 | 1,642 | 16.3 | 5.93 | 12.24 | 12 |
| DeVonta Smith | 158 | 110 | 1,393 | 12.7 | 5.08 | 9.91 | 8 |
Counting the postseason, Brown and Smith were in the NFL Top 10 in targets, receptions, and receiving first downs. Only a handful of receivers had a higher average/reception than Brown.
---
10. Dolphins: Tyreek Hill, Jaylen Waddle
In their first season together, Tyreek Hill and Jaylen Waddle rewrote the Miami Dolphins record books. The franchise record for most receiving yards in a season was held by Mark Clayton (1,389 yards in 1984). Mark Duper (1,306 yards in 1984 and 1,313 yards in 1986) was the only other receiver to top 1,300 yards.
In 2022, Hill had 1,710 yards receiving to set the new franchise record. Waddle's 1,356 yards was the third-highest mark in franchise history.
Remember, they only had their starting quarterback, Tua Tagovailoa, available to start and finish 12 games. If Tagovailoa had been healthy all season, it is my belief that Hill would have had a 2,000-yard season, and the duo would have combined for close to 3,800 yards.
The Marks Brothers — Clayton and Duper — are, for now, higher on this list. They played together from 1983-1992. More on them later.
Hill, Waddle in 13 games with Tagovailoa:
214 Targets
145 Receptions
2,388 Yards
16.5 Yards/Reception
15 TDs
Hill, Waddle without Tagovailoa:
95 Targets
59 Receptions
791 Yards
13.4 Yards/Reception
Zero TDs
---
9. Rams: Isaac Bruce, Torry Holt
Isaac Bruce was one of the best. His receptions total (1,024) ranked fifth, and his receiving yardage (15,208) placed him second in NFL history at the time of his retirement. Torry Holt was a shade behind Bruce in their career totals but a bit better than him when the two were key cogs in the Greatest Show of Turf.
These guys played together a long time, from Holt's rookie 1999 season that ended with a Super Bowl victory all the way through to 2007. In the year 2000, under Mike Martz, the Rams averaged nearly 34 points per game. Bruce was targeted 135 times. Holt was targeted 139 times. They combined for 274 receptions for 3,106 yards (194 yards per game) and 15 touchdowns.
They won one Super Bowl and could have, or should have, won one more.
---
8. Steelers: Lynn Swann, John Stallworth
It's hard to put either one of these guys ahead of the other. Even alphabetically, one must think hard before putting Stallworth first.
If you're having trouble separating them in your mind, here's a trick. It was Stallworth who scored the winning touchdown on a 73-yard reception in Super Bowl XIV against the Rams. It was Swann who was MVP of Super Bowl X against the Cowboys when he caught four passes for 161 yards, including a spectacular 64-yard catch and run that produced the winning touchdown.
They played together from 1974-1982. Swann was All-Pro three times, and Stallworth just in 1979. They won four Super Bowls together.
I like duos that are 1 and 1A, which brings us to the next duo.
---
7. Dolphins: Mark Clayton, Mark Duper
The great Dan Marino set a record at the time by connecting with Clayton for 79 touchdowns. (Peyton Manning would come along and say, "Hold my Beer" as he connected with Marvin Harrison 112 times.) Marino also hit the other "Marks Brother"—Duper—for 55 more touchdowns.
They played eight seasons together, and both were capable of going long.
Can anyone imagine Hill and Waddle playing with a Hall of Fame-caliber quarterback for even two or three seasons?
---
6. Colts: Marvin Harrison, Reggie Wayne
Welcome to the best wide receiver duo Peyton Manning ever had at his disposal.
However, the 2013 Broncos would like a word. They had a trio of wide receivers (Demaryius Thomas, Eric Decker, Wes Welker) that combined for 35 touchdown receptions and 230 yards per game. Pretty awesome.
Manning had a pretty fair third wideout with the Colts in Brandon Stokley. But Harrison and Wayne were the dynamic duo. For five terrific seasons (2002-2006) they were a terror, especially at home (and especially in the regular season).
---
5. Bengals: Ja'Marr Chase, Tee Higgins
What the heck, I've seen enough of these two to take a chance and predict that these guys will be one of the top wide receiver duos of all time.
Ja'Marr Chase was limited to 12 games last season (the Bengals played 16 — not 17 games — and Chase missed four games with a hip injury). Despite this, Chase finished with 87 catches for more than 1,000 yards. He was on his way to haul in 116 receptions for 1,400-plus yards.
Tee Higgins is a perfect complement. He had a pair of touchdowns in Super Bowl LVI and a game-tying touchdown reception in the second half of last year's AFC title game. You get the feeling that one of these years — real soon — Joe Burrow and Chase and Higgins are going to put it all together.
Chase is 23. Higgins is 24. Give these guys a couple of years.
---
4. Cardinals: Larry Fitzgerald, Anquan Boldin
Please don't forget about this duo. The great Larry Fitzgerald played with Arizona from 2004-2020. His best years were the six when he teamed with Anquan Boldin, who played with the Cardinals from 2003-2009.
In those six seasons together, they combined for 1,645 receptions (865 for Fitzgerald, 780 for Boldin), 13,210 yards (2,200 yards per season) and 95 touchdowns. And they put up numbers no matter if the quarterback was Josh McCown, Kurt Warner or Matt Leinart.
In Super Bowl XLIII, the duo combined for 15 receptions and 211 yards with a pair of fourth-quarter touchdowns. Fitzgerald (seven catches for 127 yards and two TDs) was magnificent, as he took a short pass over the middle of the field and ran 64 yards for a go-ahead score in the final 2:37. Fitgerald had six catches for 115 yards and two TDs — in the fourth quarter alone.
Fitzgerald learned the tricks of the trade early on. The Minneapolis teen was a ballboy for the Vikings when Cris Carter and Randy Moss were setting standards that have never been matched.
---

3. Patriots: Randy Moss, Wes Welker
These guys were great with Tom Brady in 2007. These guys were great with Matt Cassel in 2008. They were great again in 2009 with Brady. Moss was in his prime. And that prime has been reached by exactly one other human — Rice.
Wes Welker caught 112 passes with eight touchdowns in 2007. He caught 111 passes with three touchdowns in 2008. He caught 123 passes with four touchdowns in 2009.
---
2. 49ers: Jerry Rice, John Taylor
The toughest decision I had to make in this was whether to put Rice/Taylor ahead of Moss/Welker. John Taylor wasn't a great receiver, but he had a three-year period where he was a terrific complement to Rice.
I compared Taylor from 1989-1991 with Welker from 2007-2009. Yes, Welker caught twice as many passes in the same number of games, but Taylor's catches went for a much higher average, and he had many more touchdowns.
| | | |
| --- | --- | --- |
| John Taylor ('89-91) | | Wes Welker ('07-09) |
| 45 | Games | 46 |
| 173 | Receptions | 346 |
| 2,836 | Yards | 3,688 |
| 16.4 | Avg. per Reception | 10.7 |
| 26 | TDs | 15 |
Remember in Super Bowl XXIII, Rice was the game's MVP (11-215 yards, TD) but it was Taylor who caught the game-winner from Joe Montana. It was the only pass that Taylor caught the entire game. It's close, but I'll go with John Taylor.
As for Moss and Rice, in those three years with Welker/Taylor, it's a wash.
Moss from 2007-2009: 48 games, 250 receptions, 15.1 average, 47 TD
Rice from 1989-1991: 48 games, 262 receptions, 16.0 average, 44 TD
---
1. Vikings: Randy Moss, Cris Carter
This was the easiest decision when ranking the great wide receiver duos. The 1998 Vikings were 15-1 and rolled over opponents because Carter (12 TDs) and Moss (17 TDs) were destroying defenses. They combined for 24 touchdowns in each of their next two seasons, as well.
| | | |
| --- | --- | --- |
| Cris Carter | 1998-2000 | Randy Moss |
| 48 | Games | 48 |
| 34 | TDs | 43 |
| 264 | Receptions | 226 |
| 13.4 | Yards/Catch | 18.4 |
---
Elliott Kalb has been known in the sports television industry as "Mr. Stats" for more than 35 years. He is a 13-time Sports Emmy winner as a writer, researcher and producer. Follow him on Twitter @MrStats50.