Analysis
9/27/23
22 min read
2023 NFL Week 4 QB Power Rankings: Joe Burrow Trending Downward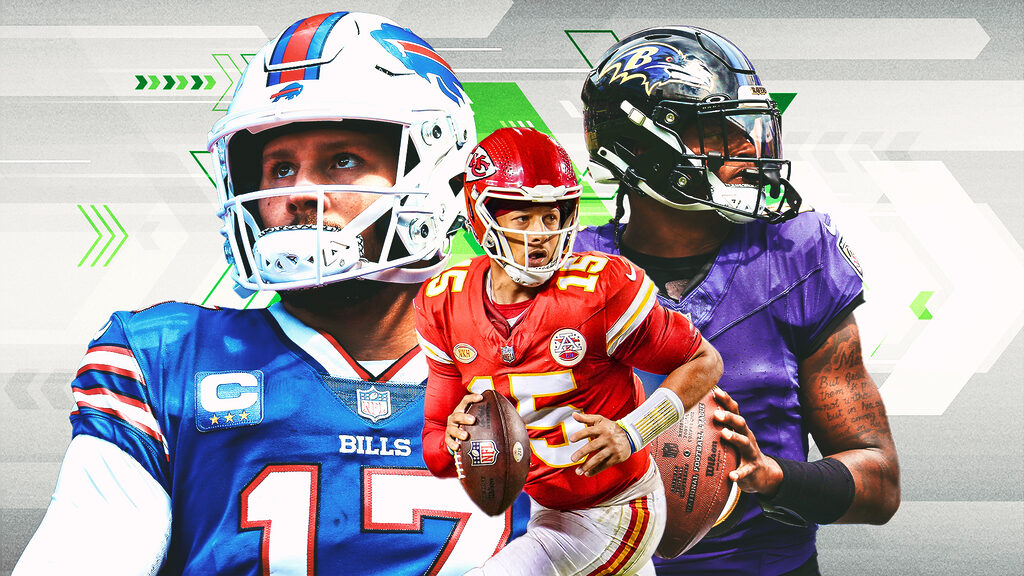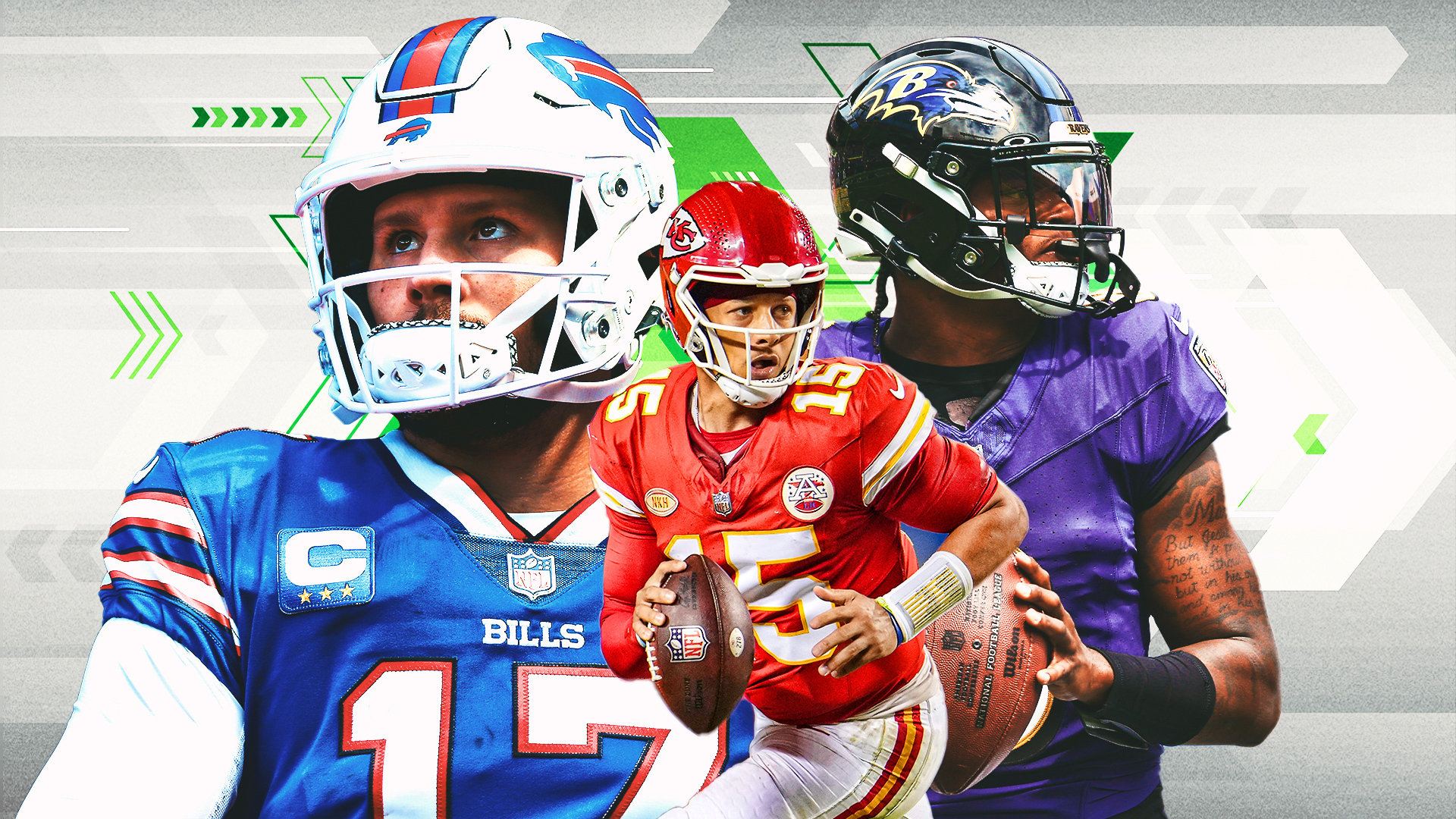 It was a week of extremes for quarterback play across the league. 
Tua Tagovailoa nearly made history by leading the Miami Dolphins to 70 points. Patrick Mahomes was on the same pace vs. the Chicago Bears before leaving the game because of a minor ankle injury. Justin Herbert broke the record for completion percentage in a game with at least 45 attempts. At the other end of the spectrum, Sam Howell threw four picks and took nine sacks.
Every flavor of insane quarterback performance was on the menu in Week 3. 
Note: Each week, only the 32 starting quarterbacks will be ranked. For example, Arizona Cardinals QB Kyler Murray won't be on the list until he returns to action. The same will be true of any quarterback who misses time as the season progresses. 
>>Previous: Week 1 | Week 2 | Week 3
1. Patrick Mahomes, Kansas Chiefs
Lost in the shuffle of the Dolphins hanging 70 points on the Denver Broncos was Mahomes putting the Kansas City Chiefs on pace to do the same to the Bears. 
Mahomes was on his A-game against the Bears. He showed the perfect blend of vintage playmaker Mahomes and the more calculated, in-structure passer he has matured into. Getting a healthier Travis Kelce more involved certainly helped, but Mahomes connected with 10 different targets Sunday, which speaks to how well he distributed the ball all over the field. 
After two games of uneven production from the Chiefs' offense, it was refreshing to see Mahomes' efforts pay off in a way we're used to seeing. 
---
2. Josh Allen, Buffalo Bills
The stats from Josh Allen's performance against the Washington Commanders aren't eye-popping: He put up 6.8 yards per pass with one touchdown and one interception. 
In the context of the game, Allen was fine. The Buffalo Bills' defense was ripping Howell's face off all game. Allen only needed to be a reliable, efficient passer throughout the game. And he was, just as he was a week ago against the Las Vegas Raiders. Allen's interception in this game was effectively a 50-yard arm punt on third-and-20, which doesn't really move me despite how bad another interception on the stat sheet looks for him. 
---
3. Lamar Jackson, Baltimore Ravens
Nothing came up Ravens on Sunday. The Baltimore Ravens were down their starting center and left tackle, two wide receivers (Rashod Bateman and Odell Beckham Jr.) and two running backs. They weren't fielding anywhere close to their starting roster. 
Still, Lamar Jackson executed at a high level for about three-and-a-half quarters. Jackson was knifing the Colts up underneath and finished the day with over 100 yards on the ground. He was doing an excellent job of keeping the offense moving, but a couple of lost fumbles (one from Jackson, to be fair) and a few well-schemed sacks from the Indianapolis Colts defense ruined otherwise efficient drives. That doesn't even get to the missed DPI call in overtime that should have put the Ravens in field goal range. 
Jackson wasn't at the same level as he was vs. the Cincinnati Bengals a week ago, but he still largely kept Baltimore in a weird, fluky game without half his starting lineup. Jackson and the Ravens will be just fine moving forward. 
---
4. Justin Herbert, Los Angeles Chargers
Take a bow, Justin Herbert. In a game where the Los Angeles Chargers made no effort to be balanced on offense and let Herbert sling the football around the yard, he stepped up to the challenge and put the team on his back. 
Herbert completed 40-of-47 passes for 405 yards and three scores. As the Ringer's Benjamin Solak pointed out, Herbert's 85 percent completion percentage in that game was the highest in league history for a passer with at least 45 attempts. What's crazy is that the historic nature of his performance doesn't even do the film justice. Herbert was cool as ice under pressure, sharp as ever as a decision maker and threw a handful of absolute missile strikes over the middle and down the field. 
Herbert on Sunday was everything you want a modern quarterback to be. If he keeps playing at or near this level like he has all season, he will climb up the board soon. 
---
5. Trevor Lawrence, Jacksonville Jaguars
The Jacksonville Jaguars are completely and totally discombobulated on offense — through no fault of Trevor Lawrence. 
As has been the case all season, Lawrence was lights out individually against the Houston Texans. He managed the pocket exceptionally well; Lawrence didn't take a single sack against a DeMeco Ryans–called pass rush that has been nasty this season. Lawrence was also as quick and accurate as usual, which helped give the offense a decent floor. 
The problem is that that's all the Jaguars' offense is built to do right now. The entire operation is designed to spread teams horizontally. That's all good and well when you're the Dolphins or San Francisco 49ers with unbelievable skill talent, but that's not where the Jaguars are now. All they get out of the approach is a muzzled quarterback and botched efficiency because their receivers can't stop dropping passes. 
There's no quarterback in the league right now whose stats and team success disagree with the film as much as Lawrence's. He's playing at a high level. 
---
6. Joe Burrow, Cincinnati Bengals 
Joe Burrow's uncharacteristic play has gone on long enough that it's time to start dropping him a little. We all know a healthy version of Burrow is still one of the best quarterbacks in the league, but it's clear right now that his calf injury is hindering him. Burrow's time-to-throw is third-lowest in the league right now, according to NextGenStats, and his average depth of target is fifth-lowest. And that's Monday night's game boosting those numbers slightly. 
Burrow just doesn't have the arm strength or mobility we're used to seeing from him. He couldn't throw the ball outside the numbers or into tight windows against the Los Angeles Rams at all. He also couldn't get outside the pocket as a scrambler. It will be hard to keep Burrow high on this list if that continues.  
---
7. Dak Prescott, Dallas Cowboys
Dak Prescott and the Dallas Cowboys' offense Sunday struggled in the same place they have all season: the red zone. 
Between the 20-yard lines, Prescott was gaming. Just as he did against the New York Jets last week, Prescott sliced up the defense in the short area and did a good job of keeping the offense on schedule. That's always been his calling card. 
But when it came time to finish, Prescott and the Cowboys didn't have it. The Cowboys scored a touchdown on just one of five red zone trips, including their final possession, in which Prescott threw an interception. A touchdown on that drive could have brought Dallas within a touchdown of the lead with three minutes to play. Instead, the interception was the nail in the coffin. 
The sample size on Prescott being a highly efficient quarterback is still too large to move him down just yet. At a certain point, however, the offense's inconsistent explosive ability and red zone struggles (despite elite red zone offense last year) has to fall on his shoulders a bit. We'll see if Prescott can rebound soon. 
---
8. Matthew Stafford, Los Angeles Rams
Watching Matthew Stafford against the Bengals was like watching someone try to beat Elden Ring with a wooden stick. That man did not have the tools for the task at hand. 
Cincinnati's pass rush teed off on Stafford all night. It felt like he was pressured every single drop back. Through it all, Stafford still battled and hit a number of clutch throws, both over the middle and with quick checkdowns to deal with pressure. However, when the margin for error on every play is razor-thin, things are bound to go wrong. Stafford threw a classic "what the hell is he doing" interception, as well as another on an unfortunate tipped pass. 
Ugly as it all was, I don't feel any differently about Stafford. He has been one of the scariest pocket passers in the league this season when given any halfway reasonable amount of time to operate. 
---
9. Jalen Hurts, Philadelphia Eagles
Jalen Hurts was fine against the Tampa Bay Buccaneers on Monday night — nothing more and nothing less. 
Hurts threw two interceptions. The first was a clear miscommunication with the running back on an option route, while the second was an uncharacteristic heat check into double coverage down the field. Those just aren't mistakes Hurts or the Philadelphia Eagles make very often.
The more concerning issue with Hurts and the Eagles' passing offense is consistency. According to Sports Info Solutions, hurts ranks 26th in positive play rate on dropbacks this season. That's not all his fault because the team has a fresh offensive play caller in Brian Johnson, but this ship has to get turned around soon. 
---
10. Geno Smith, Seattle Seahawks
Geno Smith was throwing flames again this week. While he burned himself once with an interception, Smith was mostly torching a formidable Carolina Panthers defense. 
According to NextGenStats, Smith was a perfect four-for-four on throws between 11 and 20 yards. Those are the exact types of throws Smith has dominated with since returning to a starting job. The timing, confidence and arm talent that oozes from Smith when throwing the intermediate area is hard not to get giddy about. 
Smith was perhaps a little too antsy to throw down the field this game, targeting receivers seven times on throws of 20-plus yards, but he's going to push the ball down the field. It's scary that Smith could only go 2-of-7 on those throws, comfortably below his typical success rate down the field, and still lead the Seahawks to 37 points. 
---
11. Tua Tagovailoa, Miami Dolphins
What do you even say after a quarterback puts up 56 points in three quarters of play? 
Tagovailoa's historic day was defined by the traits he's always shown: timing and accuracy. Coach Mike McDaniel did a phenomenal job scheming things up over the middle, and Tagovailoa pinned it on his man time and time and time again. Tagovailoa even finished the first half a perfect 16-of-16. NextGenStats calculated an average expected completion chance of 80.8 percent on those 16 throws, but Tagovailoa hit all of them. (There was only a 2.2 percent chance of Tagovailoa being perfect over that stretch.)
This game was arguably less of a needle mover than the game against the Chargers in Week 1. This week's game was classic Tagovailoa: surgical over the middle without much else. McDaniel just cooked a game plan up exceptionally well. The Chargers game (and the Patriots game, to a lesser extent) showed some of Tagovailoa's out-of-structure and outside-the-numbers growth. 
---
12. Kirk Cousins, Minnesota Vikings
Sunday's game was a peak Kirk Cousins performance, for better and for worse. 
For most of the game, Cousins did what he usually does. He peppered the underneath area, found a few tasty intermediate throws and took some well-calculated shots down the field when he needed to. It was the kind of game we've seen from Cousins 100 times. 
Then, at the end of the game, Cousins and the Minnesota Vikings had a meltdown. After getting inside the Chargers' 10-yard line down four points with 35 seconds left, Cousins and the Vikings fiddled around for a while trying to run a play hurriedly. Even without knowing what exactly ensued, Cousins and the Vikings should know they can just clock the ball there and save time. Instead, the rushed play turned into a tip-drill interception to seal the game. 
Now, I don't fully put that on Cousins. It's clear coach Kevin O'Connell gave his quarterback a legitimate play call and wanted to sneak a play in. O'Connell said as much after the game. But Cousins should also know better than to force a throw there when Minnesota would have had at least 10 seconds to work with if he'd just thrown an incomplete pass. 
---
13. Jared Goff, Detroit Lions
Jared Goff had a nondescript day in the Detroit Lions' 20-6 win over the Atlanta Falcons. 
While the Falcons' defense did well to glove up the Lions' beloved intermediate throws, Goff still found ways to move the ball. He kept the game in control with his quick-game operation, while OC Ben Johnson gave him a little help in the explosive department with a schemed-up deep shot that had TE Sam LaPorta running wide open for a score. 
Nothing happened either way to move the needle for Goff. 
---
14. Ryan Tannehill, Tennessee Titans
Ryan Tannehill is playing on impossible mode right now. The Tennessee Titans' offense is only built to be front-runners with their run game and bully-ball receivers, but the run game isn't as reliable as in years past. In turn, anytime the Titans get behind the sticks, they end up with a nasty blend of poor pass protection, big and slow receivers and a quarterback who isn't exactly a play maker. 
Sunday's game was a shining example. The Cleveland Browns' run defense had the Titans in hell all game, so the Titans were always behind the sticks when they threw the ball. Their offense isn't built for that, and the Browns' pass rushers got to tee off relentlessly. 
Of course, some of that still falls on Tannehill. If he were a more dynamic and creative player, some of these issues could be overcome. He's still a very good passer within structure, though. The Titans just have a fragile build on offense that rarely allows them to operate the way they want to right now, and Tannehill is suffering greatly for it. 
---
15. Mac Jones, New England Patriots
The New England Patriots' 15-10 win over the Jets was a clear example of what New England's offense is and isn't capable of right now. 
On one hand, Mac Jones did a great job playing on time and peppering the Jets underneath. Jones' decision-making has been top-quality this year, even if the accuracy is a step behind what we're used to seeing from him. On the other hand, Jones went 0-for-5 beyond 20 yards, which speaks both to his average deep throwing ability and the Patriots' complete lack of juice down the field. 
Jones continues to play well this season, but the margin for error is so slim. He has to be perfect as a short-to-intermediate distributor or else the drive stalls out. The Patriots badly need some explosive potential in this offense to open things up. 
---
16. Russell Wilson, Denver Broncos
Poor Russell Wilson. Nothing he could have done Sunday was going to overcome the Dolphins running up 70 points on the scoreboard. 
The Broncos' defensive collapse serves as another reminder that Wilson isn't really the problem in Denver right now. The offense is fine. Wilson is doing a better job of playing within structure this season, and we're seeing a little bit of his magic from outside the pocket return, such as on his red zone touchdown to Courtland Sutton. Here's hoping things get a little more normal for the Broncos moving forward. 
---
17. Jordan Love, Green Bay Packers
Jordan Love was pedestrian for about three quarters against the New Orleans Saints. A few misfires from Love and a couple of key drops from his receiver, namely rookie Jayden Reed, had the offense stalling out drive after drive. Then, Love came alive in the fourth quarter. 
He orchestrated three straight scoring drives in the fourth quarter, including two 80-yard touchdown drives. The accuracy that had escaped him earlier in the game suddenly came back, and receivers started finishing plays. Reed, despite his earlier drops, laid out for a huge catch down the field. 
Overall, Love's ball placement has to get better. It's clear he knows how to run the offense, but the consistency in execution needs to catch up. Finishing a game out like Sunday's is a hell of an achievement, though. That's the kind of resilience you want to see from a first-year starting quarterback. 
---
18. Brock Purdy, San Francisco 49ers
Brock Purdy battled like hell against the New York Giants on Thursday night. The Giants blitzed him on over 80 percent of dropbacks, yet Purdy regularly found ways to get the ball out and to his play makers. A few third-and-long screen conversions certainly helped get things going, but Purdy found his footing the more the Giants sent pressure at him. 
That kind of performance was new for him because he had never been very good at dealing with the blitz. Sometimes, Purdy would dazzle by bailing the pocket and making a play, but he didn't have the vision and trigger to beat the blitz in a consistent, reliable way. San Francisco can only hope that what Purdy showed in that department against the Giants can continue for the rest of the year. 
---
19.  C.J. Stroud, Houston Texans
C.J. Stroud is exactly the dude the Texans thought they were getting with the No. 2 pick. The decision-making, anticipation, toughness and ball placement we've seen from Stroud through three weeks is legitimately as good as some of the best passers in the league. There are still hiccups here and there, especially in terms of taking sacks, but Stroud absolutely looks like a quarterback who is here to stay. 
Expect Stroud to slowly but surely continue climbing up this list. 
---
20. Anthony Richardson, Indianapolis Colts
Anthony Richardson missed last week's game against the Ravens. Even though the Colts survived with a win, they felt Richardson's absence. The offense was reduced purely to dinking-and-dunking with very little explosive play ability, either through the air or with the quarterback's legs. Getting Richardson back in the lineup will be a boon for the Colts. 
---
21. Daniel Jones, New York Giants
The Giants are trying to run a more normal offense this season, but they don't have the offensive line for it. Thursday night's game made that clear as day. Asking Daniel Jones to drop back time and time again behind an offensive line that has one good player is a recipe for disaster. 
As a result, Jones isn't playing well right now. I still think there's a way for New York to have a viable offense with Jones via quick passing, play-action and using him as a runner, but the Giants have strayed from that formula a little this season with nothing good to show for it. There's a chance they find a way to make it work as the season rolls along, but I'm going to have to see it to believe it. 
---
22. Jimmy Garoppolo, Las Vegas Raiders
Jimmy Garoppolo was all over the place Monday night, but it's hard to know exactly how much to punish him for it because he was thrown into concussion protocol following the game. It wasn't apparent when the concussion happened, though, and Garoppolo finished the contest. There's a good chance he wasn't himself for a significant portion of this game, so I'm going to hold off on serious judgment. 
---
23. Deshaun Watson, Cleveland Browns
Deshaun Watson finally played his first decent game with the Browns. 
Head coach Kevin Stefanski cooked up a masterful game plan. The Browns hit the Titans' defense with screens, play-action and gadget plays galore. Open receivers were running rampant, and to his credit, Watson found them. He also made a few throws down the field that he hasn't shown very often in a Browns uniform. 
Things aren't going to be this easy for Watson every week, but at least he proved he's capable of running the offense under favorable conditions. Even that was in question until this week. 
---
24. Jameis Winston, New Orleans Saints
Derek Carr is in no danger of losing his job, but Jameis Winston is a fine starting quarterback. While the Saints' offense was unsteady with Winston at the helm a year ago, that was largely without Michael Thomas and with less-experienced versions of Rashid Shaheed and Chris Olave. Winston has the pocket command, arm talent and aggressiveness to generate enough explosive plays to keep the Saints above water while Carr recovers from his shoulder injury. 
---
25. Desmond Ridder, Atlanta Falcons
The Desmond Ridder roller coaster continues. After an encouraging Week 2 performance, Ridder fell back down in Week 3. The Falcons struggled to run the ball on the Lions' front, which forced the game onto Ridder's shoulders. It was a weight he could not bear. 
Ridder struggled to string together drives. Not only did he barely complete half his passes, he took seven sacks throughout the game. While the Lions' pass rush is nasty, Ridder was largely responsible for most of the sacks because he just refused to get rid of the ball on time. The consistency in his play needs to come together at some point. 
---
26. Justin Fields, Chicago Bears
There's no doubt things are only getting worse for Justin Fields, but last week's game against the Chiefs shouldn't serve as a major knock. Kansas City scored 34 points in the first half, a pace no offense outside of Miami would have a chance of matching, much less a Bears offense not at all built to throw itself back into a game. It's concerning that Fields looked bad once again, but I don't think any quarterback in his position would have had a chance, either. This was never a real game. 
---
27. Baker Mayfield, Tampa Bay Buccaneers 
The Baker Mayfield Renaissance came crashing back to earth a little bit Monday night. The Eagles' defensive line ate Tampa Bay alive. Philadelphia forced a ton of bad down-and-distances that let its pass rushers get after Mayfield, and boy did they ever. In turn, Mayfield looked more like the scattered, inconsistent version of himself that we've grown used to over the past few years. Mayfield still ripped a few delicious throws, but it wasn't nearly enough to overcome everything else. 
---
28. Kenny Pickett, Pittsburgh Steelers
Kenny Pickett played his best game of the season against the Raiders on Sunday night. While still wildly inconsistent on the whole, he made a handful of slick throws, and his touchdown to Pat Freiermuth was a thing of beauty. 
That being said, an uneven performance from Pickett with some flashes here and there against a mediocre Raiders defense isn't enough to move the needle yet. The Pittsburgh Steelers play the Texans and Ravens over their next two games, both of whom have elite defensive play callers and devious pass rushes. I think we'll learn a lot about Pickett over those two games. 
---
29. Bryce Young, Carolina Panthers
Bryce Young didn't play last week, and his status for Week 4 is up in the air. Still, without the Panthers making any clear indications about whether he'll start, Young can stay on this list for now. Whenever Young returns to the lineup, Carolina needs to see some more consistency from him. 
---
30. Josh Dobbs, Arizona Cardinals
Josh Dobbs continues to do a respectable job holding things down for the Arizona Cardinals. OC Drew Petzig is cooking up a wonderful offense, and the Cardinals' offensive line looks much improved, but Dobbs is executing the way a starting quarterback should. On Sunday, he did well to get the ball out before the Cowboys' nasty pass rush could get to him, thanks in part to a healthy serving of screen passes. He even sprinkled in a couple of strikes down the field. 
---
31. Sam Howell, Washington Commanders
Things unraveled for Howell against the Bills: He threw four interceptions and got sacked nine times. With the way Howell plays as a big game hunter, a performance like this was always on the table given his inexperience. 
The sacks he took are what I keep coming back to. Howell has taken 19 sacks this season, one shy of the NFL record through three games. That not only leads the NFL in volume but also in sack percentage. Howell has been sacked on 16.10 percent of his dropbacks. Washington's offensive line is far from perfect, but they're not nearly as bad as Howell is making them look. Things have to speed up for Howell — and soon. 
---
32. Zach Wilson, New York Jets
It's the same story as last week for the Jets and Zach Wilson. New York didn't trust Wilson to throw the ball until it became painfully apparent in the fourth quarter that passing was the team's only way back into the game. Wilson nailed a couple of nice throws but not nearly enough to be redeemable. The lateness and inconsistency in his entire process as a quarterback is as much of a problem as it was when he was a rookie. 
---
Derrik Klassen is an NFL and NFL Draft film analyst with a particular interest in quarterbacks. Klassen's work is also featured on Bleacher Report and Reception Perception. You can follow him on Twitter (X) at @QBKlass.