Analysis
9/20/23
20 min read
2023 NFL Week 3 QB Power Rankings: Jackson Takes His Game to New Level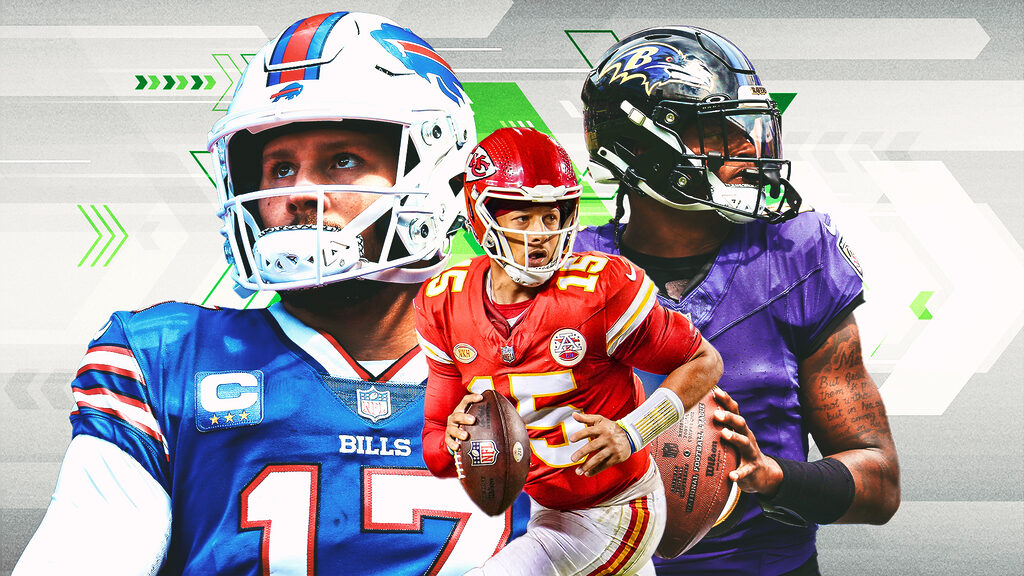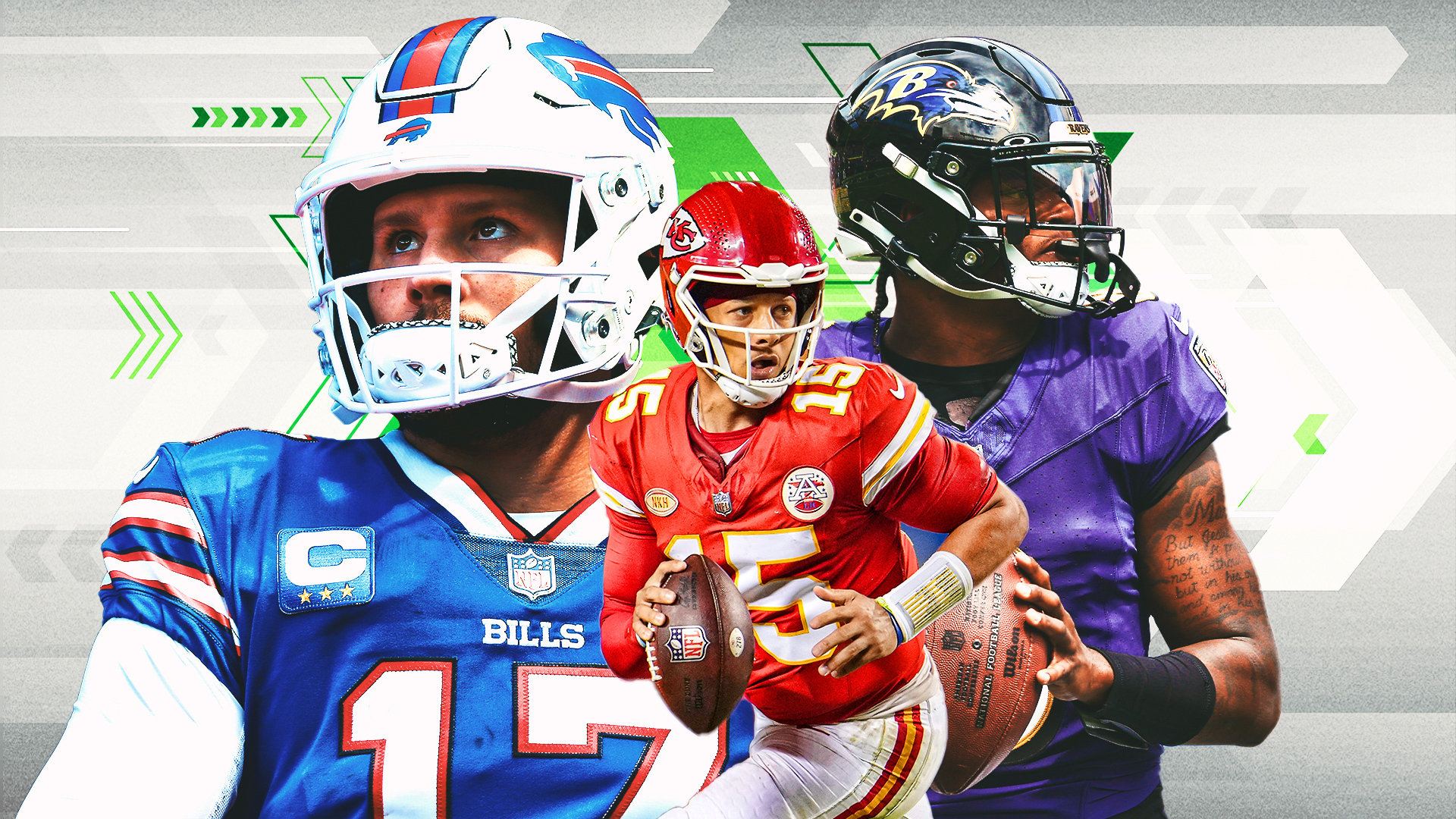 Week 2 is when teams start to tell you all about themselves. Coaches have gone back to rewire what does and doesn't work. Quarterbacks and receivers get real game reps to reflect on and shore up communication issues. Defenses take stock of how new offenses look around the league. The Week 1 rust wears away and everything starts to become clearer. 
A few quarterbacks took that chance to redeem themselves in Week 2. Josh Allen rebounded from a bizarre Monday nighter in Week 1, and Desmond Ridder was finally allowed to play football after being nearly removed from the game plan in the opener.
Geno Smith returned to the aggressive quarterback we know him to be after a lifeless start in Week 1. Even Ryan Tannehill bounced back from a disgusting three-interception loss to the Saints by shredding the Chargers pass defense. 
But I don't need to spoil any potential movement more than I have. Let's dive in. 
Note: Each week, only the 32 starting quarterbacks will be ranked. For example, Arizona Cardinals QB Kyler Murray won't be on the list until he returns to action. The same will be true of any quarterback who misses time as the season progresses. 
>>Previous Rankings: Week 1 | Week 2 
1. Patrick Mahomes, Kansas City Chiefs
It turns out that getting a 65 percent version of Travis Kelce is all it takes to get Patrick Mahomes back to normal. Make no mistake, the Kansas City Chiefs receivers still made his job difficult at times, but Mahomes was wheelin' and dealin' in typical fashion against the Jacksonville Jaguars. Mahomes is still that dude. Maybe we're just going to have to accept the numbers won't be as eye-popping this season. 
---
2. Josh Allen, Buffalo Bills
Josh Allen had his "get right" game against the Las Vegas Raiders. Off the back of a Week 1 meltdown characterized by unforced errors, Allen took all the freebies in Week 2.
Allen completed 18 of 19 passes between 1-10 yards and hardly had any of the tight-window scares that plagued him a week ago in the Buffalo Bills' loss to the New York Jets. This is the version of Allen that we saw come to life early last season during his MVP-caliber stretch. Hopefully, Week 1 was just a blip. 
---
3. Lamar Jackson, Baltimore Ravens
Fire up the Lamar Jackson MVP campaign. Jackson diced up the Cincinnati Bengals' secondary, particularly over the middle of the field with TE Mark Andrews back in the fold for the Baltimore Ravens. The Bengals pass rush couldn't touch him, either.
No matter how many times Jackson got pressured, he found a bit of grass in the pocket or made someone miss before making a quick throw on the move. Don't even get me going on the deep post throw right on the money to Zay Flowers. Everything Jackson touched was gold on Sunday. 
---
4. Justin Herbert, Los Angeles Chargers
It's not right to blame Justin Herbert and the Los Angeles Chargers offense for their struggles. They have to be better than going 3-for-12 on third down like they did last week against the Tennessee Titans, but as an overall operation, the Chargers offense has been humming.
Herbert is playing sharp and flashing some of his magic out of structure. Offensive coordinator Kellen Moore is also doing a better job at unleashing Herbert's arm down the field. As ugly as the Chargers' defense has been, Herbert has been the guy we expected him to be in a new offense and with a healthier supporting cast. 
---
5. Joe Burrow, Cincinnati Bengals
Joe Burrow isn't playing like the fifth-best quarterback in the league right now. There's no way around it. However, I still want to give him some time before pulling him down the rankings. It's clear the calf injury is bothering him, and it may only get worse since he re-aggravated it against the Ravens. 
With Burrow hampered, the Cincinnati Bengals offense has resorted almost purely to go balls and checkdowns. That's always sort of been the formula, but now it feels worse and clunkier. The Bengals can't use enough of their changeups due to Burrow's health, most notably his scrambling ability. 
If this continues, Burrow will fall shortly, but I want to give a good player the benefit of the doubt in the short term. 
---
6. Trevor Lawrence, Jacksonville Jaguars
Things will turn around for the Jacksonville Jaguars' passing offense. It's not hard to boil their struggles down to a few back-breaking turnovers, which weren't Trevor Lawrence's fault. The Jaguars have been a good offense on a down-to-down basis.
Lawrence already has a special connection with Calvin Ridley, and I have a lot of faith that coach Doug Pederson can right the ship with the other pieces. The Jaguars' offensive line also isn't going to get beat to a pulp the way they did by the Kansas City Chiefs on Sunday. 
It's not been a hot start for the Prince of Jacksonville, but I'm holding strong. 
---
 7. Dak Prescott, Dallas Cowboys
Dak Prescott played a Philip Rivers Special on Sunday. Against a New York Jets defense with a hellbent front-four and opportunistic coverage defenders, Prescott nullified their strengths with quick passing. Prescott got the ball out immediately on almost every snap and peppered the Jets' defense all over in the underneath area.
Above all, Prescott was (mostly) patient about finding the right time to strike for big plays. That's a stark difference from some of his issues a season ago. The command and accuracy Prescott showed against the Jets shined a big ol' spotlight on how scary this Dallas Cowboys team could be at its best. 
>> READ: Prescott Shredded Jets' Defense
---
8. Matthew Stafford, Los Angeles Rams
For about two and a half quarters, Matthew Stafford was going blow for blow against a San Francisco 49ers team he had no business keeping up with. Whether it was feeding Puka Nacua, drilling Tutu Atwell on backside digs or getting off timely checkdowns to Kyren Williams, Stafford had the Los Angeles Rams offense humming.
That was until Williams tipped up a checkdown right to a 49ers defender for an interception. Then, Van Jefferson drifted up the field on a dig route, which led to another interception. Those two mistakes were all it took to knock the Rams out of contention. 
Though it ended in a loss, Stafford showed up with a knife to a gunfight and almost won. He's been playing some special football with a roster nobody expected anything from. 
---
 9. Jalen Hurts, Philadelphia Eagles
Jalen Hurts' performance on Thursday night was bizarre and borderline concerning. 
Of Hurts' 193 passing yards, 117 came on two plays in which he did very little of the lifting. The first featured DeVonta Smith dunking on one of the Minnesota Vikings' poor corners on an underthrown deep ball.
The second was the result of a busted coverage that had Smith running wide open down the left side for a touchdown. Hurts also only threw one pass between 11-20 yards, which fell incomplete. It was a weird, disconnected performance all around. 
Hurts should bounce back. The Philadelphia Eagles' offensive line and pass-catching group are too talented not to. Thursday's game has me a little worried about the play-calling, though. 
---
 10. Geno Smith, Seattle Seahawks
Geno Smith gamed against the Detroit Lions defense. Down his two starting tackles, Smith was fearless against the Lions pass rush and regularly found ways to wiggle away from pressure. Smith also rediscovered his patented aggression that was missing in Week 1. Smith went 10 of 11 on throws beyond 10 yards, which serves as the perfect reminder of what he can do for the Seattle Seahawks when he's feeling it. 
---

 11. Tua Tagovailoa, Miami Dolphins
Tua Tagovailoa has been playing some great football through two weeks. In Week 1, Tagovailoa answered some of my questions about creating plays off-script. Tagovailoa came back this week and answered some of my concerns about throwing outside the numbers. Bill Belichick's defense took away many of the Miami Dolphins' throws over the middle. Still, Tagovailoa and coach Mike McDaniel found solutions on the perimeter they didn't have a season ago. 
I'm still of the belief McDaniel, Tyreek Hill and Jaylen Waddle do the heavy lifting for this offense, but that doesn't make Tagovailoa a scrub. Tagovailoa is executing at a high level. He's been a hell of a driver for this Ferrari of an offense. 
---
12. Kirk Cousins, Minnesota Vikings
Same Kirk, different day. 
Kirk Cousins and the Minnesota Vikings offense were slow to get rolling against the Philadelphia Eagles' defense on Thursday. Philly's interior pass rush had Cousins in hell for the first half, but the Vikings found a rhythm eventually.
If not for a Justin Jefferson fumble through the end zone, Cousins would be getting a lot more credit for the resiliency and accuracy he showed in the second half to give the Vikings a chance. 
---
13. Ryan Tannehill, Tennessee Titans
The Ryan Tannehill we got versus the Los Angeles Chargers in Week 2 is the one I expected to see coming into the season. Tannehill didn't have to throw 40-plus times a game and carry the Tennessee Titans or anything, but he played smart football and nailed a few intermediate throws to give the offense its explosive plays. That's a formula that works when the run game is humming with Derrick Henry and Tyjae Spears. 
Granted, Tannehill took five sacks, and that doesn't come up in the passing stats. He's always been prone to holding the ball too long, and the Chargers exposed him a bit for that. The juice is worth the squeeze there with Tannehill, though. The big throws he makes under pressure tend to outweigh the sacks over the long run. 
---
14. Jared Goff, Detroit Lions
There's no shame in losing a 37-31 overtime shootout to another good NFC team.
The Seattle Seahawks took away most of Jared Goff's precious intermediate throws, but he did well to work around it. Goff peppered the short areas of the field and made Seattle's defenders work overtime as tacklers. A
few good YAC plays from Amon-Ra St. Brown, Sam LaPorta and Jahmyr Gibbs were enough for the Detroit Lions to put 31 points on the board. Goff just needed a little help from the defense, and he didn't get it this week. 
---
15. Mac Jones, New England Patriots
Mac Jones battled against the Miami Dolphins on Sunday night. Almost all of Jones' best plays came outside the pocket, both as a scrambler and as an on-the-run passer. That's not typically the kind of game you expect to see from Jones, but if he can show some of that a little more often, the New England Patriots offense will be better for it in the long run. 
New England's real issue is it still doesn't have team speed. Offensive coordinator Bill O'Brien has done well to create a more stable offensive structure for Jones. Still, the Patriots don't have a single receiver who can separate consistently or generate explosive plays. In turn, the production will probably lag behind the true quality of Jones' play all season. 
---
 16. Russell Wilson, Denver Broncos
Russell Wilson played the most Russell Wilson game of all time against the Washington Commanders. 
Wilson was a lightning rod for explosive plays. For both teams. Wilson flashed his chemistry with rookie Marvin Mims down the field and found a few other chunk gains. He also found his athleticism again with nine carries for 56 yards. 
However, Wilson's internal clock failed him badly. Wilson took seven sacks, as he's prone to, and missed on too many throws outside the numbers because he was late. Things have to speed up for Wilson.
The good news is Denver Broncos coach Sean Payton has sort of found a formula for Wilson. He's found a way to get the explosive plays again. Wilson has to find some semblance of consistency and ability to keep the offense on schedule, though. He is in danger of tumbling down this list otherwise. 
---
 17. Derek Carr, New Orleans Saints
Derek Carr has played the same game for two weeks in a row. In both cases, the offense sputtered to varying degrees for about three quarters. Carr threw a nasty interception in both games, too. The one against the Carolina Panthers on Monday night was a prayer into triple coverage that had no shot of being completed. 
Yet, when the offense needed it most, Carr slammed the Rashid Shaheed deep ball button in the fourth quarter. Carr nailed Shaheed with a 45-yarder down the right side, a play that set up a touchdown to extend the New Orleans Saints' lead to 20-9 and put the game away. 
Fun as it is, this isn't a sustainable formula for winning football games. Carr hasn't been a disaster, but he needs to find a groove earlier in games and get in tune with his receivers. He's a smart, accurate quarterback when he feels comfortable in the offense. It's clear Carr and the Saints aren't quite there yet. 
---
 18. Jordan Love, Green Bay Packers
It's not sexy, but Jordan Love is running the Green Bay Packers offense well. Love plays within the timing of the offense well, and he's shown some excellent ball placement two weeks in a row. A few miscommunication errors and inconsistencies have ruined opportunities for the offense, but that's to be expected for an offense with so many young players and without its best receiver, Christian Watson. 
Love has shown a good baseline through two weeks. When Watson comes back into the fold, hopefully, we get to see more of Love's ceiling as well. 
---
 19. Brock Purdy, San Francisco 49ers
Brock Purdy continues to play well for the San Francisco 49ers. While he missed badly on a few deep throws against the Los Angeles Rams, Purdy was mostly lights out when throwing elsewhere. 
Purdy's willingness to stare down the barrel of the gun and make tough throws over the middle is his calling card. It's a necessary trait in Kyle Shanahan's offense, and Purdy has it in spades. We saw that against the Rams. Purdy fired a handful of tough throws over the middle, including a laser under pressure to a covered Brandon Aiyuk near the left hash. 
Shanahan and the All-Pro caliber skill players are the main reason the offense goes, but Purdy continues to prove his worth. If Purdy can find any sort of deep ball accuracy, maybe he'll have a chance to climb higher on this list. 
---
 20. Daniel Jones, New York Giants
Daniel Jones and the New York Giants offense is better than they've shown through two weeks. They have to be. 
New York's issue right now is it doesn't have a clear identity yet. Last season, the Giants survived by pounding the rock, spamming RPOs and play-action flat routes, and letting Jones loose as a scrambler. They weren't explosive, but they were sound and efficient. With TE Darren Waller and WR Jalin Hyatt in the lineup, the math has changed on what the offense can be. The Giants just haven't fully found out how they want to make that work. 
Jones is absolutely at risk of falling down this list, but I want to give the offense time to sort itself out. Brian Daboll is a sharp coach, and Jones looked mildly improved last season. They'll get a couple more weeks to get their act together before it's really time to panic. 
---
 21. Jimmy Garoppolo, Las Vegas Raiders
Jimmy Garoppolo didn't play well against the Buffalo Bills. He missed a few opportunities to be aggressive down the field and threw two costly interceptions.
Given the situation, though, it wasn't out of Garoppolo's norm. The Las Vegas Raiders were in a 21-10 hole at halftime, and their run game was completely useless. Garoppolo just isn't a quarterback built to win from behind with no run support. 
That's important to note because Garoppolo still did some of his typical stuff well. Garoppolo got the ball out early and accurately and didn't allow a solid Bills pass rush to sack him. Garoppolo's strengths as a quick, efficient passer just don't matter when the game turns into a shootout. He's a quality game manager; not a game changer. 
---
 22. Anthony Richardson, Indianapolis Colts
The rookies are moving up, and that starts with Anthony Richardson. A concussion knocked Richardson out of Sunday's contest early in the second quarter, but he was a force for the Indianapolis Colts when he was playing. 
Unlike Week 1, when Richardson dazzled as a passer, he dominated on the ground versus the Houston Texans. Richardson scored two rushing touchdowns; one on a quarterback draw and the other on a designed keeper to the right sideline. It turns out the 6-foot-4, 244-pounder with a 4.43 40-yard dash can really get rolling if he gets a little room. 
---
 23. C.J. Stroud, Houston Texans
C.J. Stroud followed up his impressive debut with another solid showing. The Houston Texans struggled to string together drives because of their run game and lack of true playmakers, but Stroud was doing his job. 
Stroud was especially money on third downs. Just like he did in Week 1, Stroud stood tall against pressure and played to get the ball out on time, trusting his arm to fit difficult windows. And he did. That's pretty special stuff for a rookie. 
---
 24. Justin Fields, Chicago Bears
It's so hard to talk about Justin Fields. There's no doubt he has some clear flaws. Fields holds the ball too long and still doesn't trust the offense enough to get through his progressions in a timely manner. 
On the other hand, the game against the Tampa Bay Buccaneers was a perfect encapsulation of how poorly the Chicago Bears craft their offense to his skill set. Fields was hardly used as a runner, and the Bears abandoned their running game too early in general. The Bears instead dropped back time after time against a nasty Buccaneers pass rush, which only lent itself to a snowball of garbage. 
It's hard not to punish Fields at a certain point, but it's not a clear-cut situation. There's a little something there. Hopefully, OC Luke Getsy turns the ship around and gives Fields a chance with an approach that makes sense for him.  
---
 25. Desmond Ridder, Atlanta Falcons
I'll admit it: I hit the panic button too early with Desmond Ridder. It was hard to fight the feeling after Ridder was barely allowed to throw the ball past the line of scrimmage in Week 1. 
Thankfully, Week 2 was a step in the right direction. Arthur Smith cut the Atlanta Falcons offense loose a little bit, and Ridder stepped up to the challenge. After a haywire first quarter, Ridder settled in nicely. He played fast, accurate football and came up big time when the offense needed him to. Ridder was especially on it in the red zone, showing all the timing, ball placement and creation ability to be a real weapon. 
Ridder still has a ways to go, but Week 2 was encouraging. 
---
 26. Baker Mayfield, Tampa Bay Buccaneers
Baker Mayfield is playing well right now for the Tampa Bay Buccaneers. He's rediscovered some of the confidence and tight-window accuracy that made him the No. 1 overall pick six years ago. We saw that in glimpses with the Rams last season, but there was no guarantee he'd show it again outside of the Sean McVay safety net. 
That being said, I'd like to see it against a non-NFC North secondary. The NFC North may have the worst group of secondaries in the NFL, and Mayfield has had the luxury of facing two of them, the Vikings and the Bears. 
---
 27. Kenny Pickett, Pittsburgh Steelers
A lot of Kenny Pickett's placement at 21st on this list heading into the season was baking in some Year 2 improvement. I assumed his processing and ball placement would take a step forward. That hasn't happened.
Monday night's game against the Cleveland Browns encapsulates Pickett's issues. Every so often, he flashes a tough throw under pressure or strings together a few accurate quick throws, but there's always so much meat left on the bone. Pickett's timing and accuracy within the structure of the system are all over the place. He needs to turn things around quickly for the Pittsburgh Steelers. 
---
 28. Deshaun Watson, Cleveland Browns
Deshaun Watson doesn't have it right now. All of the electric plays that made Watson's free-wheeling playstyle work in Houston aren't there anymore. Instead, Watson is a magnet for pass-rushers and too often bails on the structure of plays to no avail.
The accuracy isn't there for him right now, either. Watson makes a great throw every quarter or so, but the consistency is so far below that of an impact starter. 
---
 29. Sam Howell, Washington Commanders
There's no doubt about Sam Howell's arm talent. A deep passing machine at North Carolina, Howell flashed that ability against the Denver Broncos with a few screamers down the field to Washington Commanders receivers.
Howell isn't afraid to make the big boy throws. However, he has to start playing faster and avoid taking sacks. He's taken 10 sacks in two games, and that's largely his fault for how long he holds the ball. 
---
 30. Bryce Young, Carolina Panthers
The game is too big and too fast for Bryce Young right now. The Carolina Panthers' offensive line cratered time and time against the New Orleans Saints' pack of bears rushing the passer, and Young didn't have the juice to handle it.
Young was up and down even without pressure, a theme that continued from Week 1. He's still got a little playmaking sauce to him at times, but so far, not nearly as much as he had in college. 
---
 31. Josh Dobbs, Arizona Cardinals
For a guy cast into the fire as a lame-duck quarterback for a tanking Arizona Cardinals franchise, Josh Dobbs ain't half bad. Dobbs has built up years of experience as a backup around the league, and you can see that in his play at times.
Dobbs fired some real difficult throws against the New York Giants early in the game and made plays with his legs. It's admirable for what it is. 
---
 32. Zach Wilson, New York Jets
Zach Wilson was in an impossible situation this week. Coming off the bench to fill in for Aaron Rodgers against a league-best Cowboys defense is as brutal as it gets. There aren't a whole lot of backups out there who would have played well. 
The real issue is the New York Jets didn't seem to want Wilson playing at all. Wilson's passing attempts were severely limited until the game got out of hand, and a lot of his early production came from one Garrett Wilson catch-and-run. Zach Wilson will have more productive games against the worst defenses, but there isn't much to hang your hat on with him right now. 
---
Derrik Klassen is an NFL and NFL Draft film analyst with a particular interest in quarterbacks. Klassen's work is also featured on Bleacher Report and Reception Perception. You can follow him on Twitter (X) at @QBKlass.