Expert Analysis
2/8/21
5 min min read
On the Clock: Tampa Bay Buccaneers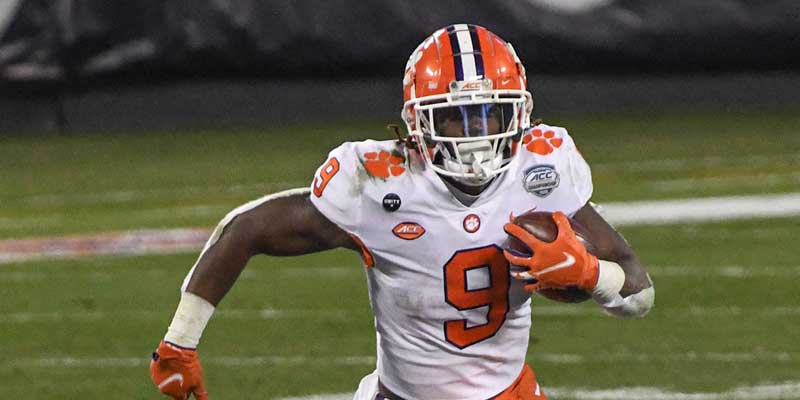 The Tampa Bay Buccaneers are on top of the NFL world, fresh off their 31-9 thumping of the Kansas City chiefs in Super Bowl LV. Tom Brady won his seventh Super Bowl and the Bucs defense held one of the most explosive offenses of this generation without a touchdown. So of course, the immeditate question is: What can they do for an encore?
As they begin their quest for a repeat, the Buccaneers must decide who they are going to re-sign along with deciding who they won't be able to bring back. A lot of important decisions lie ahead for the Super Bowl LV champions. The Buccaneers hold the 32nd pick in the 2021 NFL Draft, and they will be tasked with finding some potential replacements for key players that may leave in free agency.
Here is some quick history. The following is a list of the first-round picks the Buccaneers have made over the past five offseasons:
2020: Tristan Wirfs (OT)
2019: Devin White (LB)
2018: Vita Vea (DT)
2017: O.J. Howard (TE)
2016: Vernon Hargreaves III (CB)
The 32nd pick will be the lowest the Buccaneers have drafted since 2011, when they held the 20th pick.
The Buccaneers are currently projected to rank seventh in cap space available (per Spotrac) for the 2021 offseason, with about $38.1 million. Despite this, there are still some moves that Tampa Bay can make in order to facilitate re-signing players like Chris Godwin or Shaq Barrett. Here is a list of players that could get cut or traded this offseason for the Buccaneers (with their age in parentheses):
Donovan Smith (27)
Cameron Brate (29)
William Gholston (29)
Ryan Jensen (29)
O.J. Howard (26)
If the Buccaneers want to repeat as Super Bowl champions next season, they will have to do a good job in this draft, especially if they are unable to re-sign some critical players. Here are some players the Buccaneers could be targeting with the 32nd pick in the draft:
Possibility #1: Clemson RB Travis Etienne
2020 Stats: 12 games, 168 carries, 914 yards, 5.4 YPC, 14 TDs, 48 receptions, 588 yards, 12.3 YPC, 2 TDs
Why: The Bucs haven't lost since their Week 12 game vs. Kansas City, and they've averaged more than 30 points per game during that streak. If one had to pick a weakness, however, it would be at running back. It is tough to evaluate this position considering that Leonard Fournette could still be brought back for next year along with the Bucs having just used a Day 2 pick on Ke'Shawn Vaughn in 2020. Don't forget about Ronald Jones, either. The issue is that none of these running backs are great as pass catchers, and the home-run threat ability was hit or miss. Jones was the fastest threat out of the backfield for the Bucs, but it can certainly improve.
Travis Etienne has the potential to hit paydirt every time he touches the ball. His hands still need a bit of work, but they are still superior when compared to the running backs that are projected to be on Tampa's roster next season. Furthermore, Etienne is one of the fastest players in this draft, and he has proven he can also run well between the tackles. He would be a very interesting player to pair with Jones, and he would step in as a better weapon in the passing game for Tom Brady, who has shown a propensity to throw to his running backs, especially when the offense isn't clicking.
Possibility #2: North Dakota State OT Dillon Radunz
Career: Started 32 consecutive games at LT, named to 8 different All-America teams after his junior season; in 2019, allowed zero sacks and helped NDSU produce a school-record 4,601 rushing yards
Why: Dillon Radunz is coming off a strong performance at the Senior Bowl, where he proved himself against FBS competition. During his time at NDSU, Radunz proved he was a reliable player at the left tackle position. The fact that QB Trey Lance was so good on the ground, specifically on designed quarterback run plays, speaks to how well Radunz was able to hold up in the run game.
The reason why Radunz would be a good fit in Tampa would be due to the fact that he would help to open up holes in the running game. It was abundantly clear the Bucs were an inconsistent running team all season. Even in the playoffs, they were unwilling to commit to the run game in certain situations, especially on short-yardage situations.
Radunz would immediately help to open holes for whoever is running the ball for Tampa Bay. And the more they establish the run game, the more dangerous the play-action passng game will be.
Possibility #3: Miami EDGE Jaelan Phillips
2020 stats: 10 games, 45 total tackles, 15.5 TFLs, 8.0 sacks, 1 INT, 3 PDs
Why: With Shaq Barrett being a free agent this offseason, it is certainly possible the Bucs move on from him and try to get cheaper and younger off the edge. Phillips has very good size (currently listed at 6-5, 266 pounds). He is very athletic, and he improved immensely during his time at Miami this season. With Gregory Rousseau opting out before the season, Phillips did a very nice job filling in for him, and he proved that he was a reliable player to get after the quarterback as he compiled 8 sacks in 2020. He still has a lot of room to grow with his frame as well.
Regardless of whether or not Barrett comes back, the Buccaneers will have to start getting younger at both edge positions, since Jason Pierre-Paul (32) and Barrett (28) are both getting up there in age. With teams overpaying for Super Bowl champion players most offseasons, it is very possible that the Bucs are unable to bring Barrett back. Phillips could come in and potentially give Tampa similar production if he continues to grow into his lanky frame.
Possibility #4: Notre Dame LB Jeremiah Owusu-Koramoah
2020 stats: 12 games, 42 total tackles, 11.0 TFLs, 1.5 sacks, 1 INT, 3 FFs, 3 PDs, 1 TD
Why: As mentioned earlier, the Buccaneers are going to have a lot of tough decisions to make this offseason. One of them is if they are willing to re-sign linebacker Lavonte David. The former Nebraska Cornhusker has had a tremendous career to this point, but he is also 31 years old. Up until the Super Bowl, David's speed in coverage had not been great, as he gave up a 75% completion percentage when he dropped back into coverage. His impact in the run game was felt immensely for Tampa, but they are going to need a better coverage linebacker, especially when teams are able to figure out how to navigate their defensive line.
Enter Jeremiah Owusu-Koramoah. The linebacker out of Notre Dame is smaller than average for a linebacker (6-1, 215 pounds), but he makes up for that with his ability to stick to receivers very well. His impact was felt in the first matchup against Clemson, when he was able to cover those speedy receivers very well along with showing a great ability to catch up to those receivers to break up a pass even when he was beat. While he still has room to improve in the run game, he would have a great mentor in the form of Devin White if he ends up in Tampa.
Sources: Sports-Reference, ESPN, Over The Cap, Spotrac
SEE ALSO: On the Clock archive