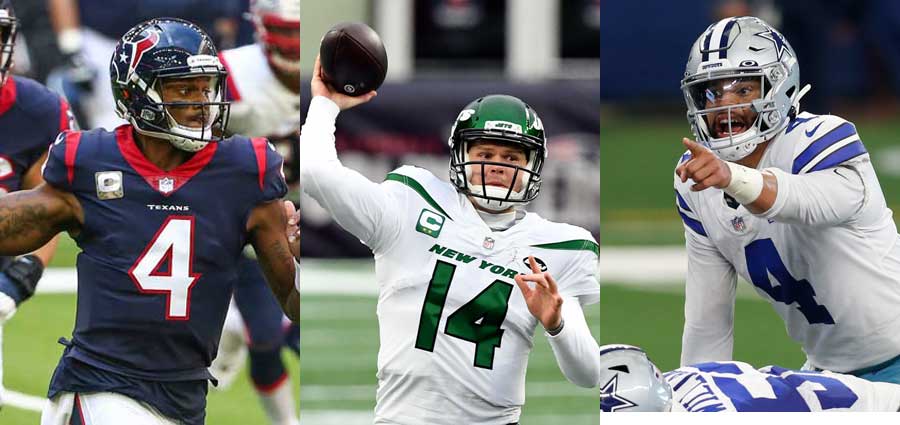 Earlier this week, we asked Joe Banner about the blockbuster NFL trade that sent Matthew Stafford to the Rams in exchange for Jared Goff and a bevy of draft picks. Amazingly, there is still the possibility of so much movement this offseason among marquee quarterbacks. Here are Banner's thoughts about some of the players who could be on the move in 2021:
Deshaun Watson
Age in 202: 26
Years Left on Contract: 5
Cash Remaining: $146.54M
I have never believed that Watson should be traded, and I think it is a mistake if they do. I believe that if he does get traded, it's going to be the biggest trade in the history of the NFL. When Herschel Walker was traded in 1989, Dallas was able to receive three first-round picks, three seconds, a three and a six. This is just an unprecedented situation that a 26-year-old, top 5-7 quarterback in the league could be on the market. There are no questions about his character, talent, determination or leadership. He has played really well when he has had plenty of other reasons not to, whether that be coaching issues, quality of his roster, bad offensive line play, or the changing of his weapons. It is expected that his production would drop, even moderately, and that just has not occurred. If he is traded, and I do not believe he will be, the compensation will be massive.
If I was a team like the Jets, I would try to trade for him in a second. I would be willing to part with their four first-round picks over the next two years, including the second overall pick this season. Quinnen Williams could also be part of a package. Remember, the best evaluators in the league, even in the first round, on average, are only hitting on a little more than 50% of their picks. So even trading three ones, or four ones, in all likelihood, you are trading away two quality players. Not even necessarily two great players or two Pro Bowl players. There are virtually no two players in the league that I would not trade for a top five quarterback. This is something Jacksonville needs to also consider with the first overall pick.
Watson has five years left on his contract and is signed through 2025. If Houston trades him, they will incur $21.6M in dead cap charges. For the acquiring team, they are only due to pay him $10.54M in 2021 before he counts $35M, $37M, $32M, and $32M against the cap the following four seasons.
An average annual salary of $29.3M is relatively cheap for a QB of his caliber. The market for a young, top-tier quarterback is around $40M. Mahomes just signed for $45M and Watson signed for $39M. Just looking at Watson's first contract, this same guy signed for $39M annually; you are getting him at a 34% discount from what the market says he is worth the next five seasons. Give him a good offensive line first and then find some weapons, you are going to have a great offense. If I was on a team that could even be upgraded by him, I would be very aggressive.
Carson Wentz
Age: 29
Years Left on Contract: 4
Cash Remaining: $98.4M
Wentz is someone that is coming off a very poor season but has had significant success previously. His contract is also very favorable for the acquiring team, around $25M annually. The negative is the acquiring team is taking on about $50M in guaranteed salary. If they are unable to right some of the things that went wrong last year, that is a $50M cash obligation.
First, the Eagles need to decide whether they want to keep him and create a QB competition or whether they want to get out of a contract that will cost them a lot of money over the next four seasons and go forward with Jalen Hurts or a draft pick. They could also bet they could fix him. If they keep him, that is a $50M decision they cannot get out of. If I was a team trying to acquire him, I would not give up a ton. I do not know what that means, but certainly not a first-round pick and maybe not even a second-round pick. That team is taking $50M in guarantees from the Eagles, but they are also taking on $100M in salary over the next four seasons. This is a guy that could be a backup.
We see this all the time in other sports and are starting to see it in football. It started when Cleveland was given a second-round pick for inheriting Brock Osweiler. We see it in basketball all the time. Al Horford went to Philadelphia and after one season, they had to find someone to take his contract. We just saw it in baseball with the Cardinals acquiring a star player in Nolan Arenado, along with $50M for three mid-level prospects. That is a guy that played well last year, so I would be surprised if a team is willing to give up meaningful compensation for Wentz. For the Eagles, they are taking on nearly $34M in dead cap by trading him, so they should hold him, if they think they can right some of his wrongs from this season. They are going to need to be realistic on his trade compensation as well.
Jimmy Garoppolo
Age in 2021: 29
Years Left on Contract: 2
Cash Remaining: $51.1M
This is another guy that has had injuries. I think he is a pretty good player, but no more than that, when he is healthy. I do not consider $25M a great discount, and I would be surprised if he returned to San Francisco. I also think they need to lock in his replacement to be in that conversation. They could certainly be a team that is in on Watson if they are available. It is clear they were in on Stafford. I think they are in the group with the Rams that feel they can win a Super Bowl now, with a significant upgrade at quarterback. That is correct, and where they should be thinking. Looking at the draft and them wanting to win now, drafting a quarterback does not look ideal the next few seasons. With the 12th pick this year, they could be in the mix for a QB or look to trade up.
Cutting Garoppolo only costs the Niners $2.8M in dead cap and will save over $50M the next two seasons. That is why they are contemplating a move. He will be easy to move, and he is not an ideal fit. Quarterback is also a tough position to have a guy you are sweating out if he can stay healthy or not. From the outside, it appears Kyle Shanahan believes he can improve that position. I think his market is similar to Wentz's, and they may struggle to find a partner, but it only takes one team to overpay. I personally would not offer significant compensation for either. I could see a smart team offering a three with incentives that could push the pick to a two. It is definitely not a one straight up, and it is likely not a two straight up. Anything below a one, though, would not be unreasonable.
Ben Roethlisberger
Age in 2021: 39
Years Left on Contract: 1
Cash Remaining: $19M
Roethlisberger has one season left in Pittsburgh. He currently has a cap hit of $41.25M and is due $19M in 2021 — $15M of his 2021 base salary is due on the third day of the league year. That is a short window for them to make a decision. They are also able to prorate that to limit the impact on 2021's cap.
In my opinion, if Pittsburgh saw a long-term solution at quarterback in the draft or free agency, I would do it. On the other hand, Ben has expressed a desire to come back and even a willingness to do something about his contract. If all he is willing to do is convert his base salary or prorate his roster bonus, that does not really help the team, just increases the costs when they do move on. If he is interested in lowering his salary for 2021, that is something that will prevent the Steelers from overpaying or betting on a guy they are not confident in because they are desperate. They really have the next two drafts and offseasons to fix this problem as long as Ben is willing to play next year. If I was Pittsburgh, I would be exploring my options while also knowing we have Ben for next season. They need to make this a priority because they cannot go on like this for much longer, and some will argue they won't even be able to win in 2021 with the current situation. They will also have to make a decision quickly, because if they pay his roster bonus that will indicate he is their starter for 2021.
Sam Darnold
Age in 202: 24
Years Left on Contract: 1
Cash Remaining: $4.77M
I think they will go forward with Darnold, because I do not think Watson will end up being available. He has some challenges, but I do not think you can fairly evaluate him until he has good protection and some consistent pass catchers. The only way I could see him actually being traded is if they decide to use the second overall pick on one of the quarterbacks or were able to get Watson. I have always felt pretty good about Darnold, but I have never been overly confident or enthusiastic about him. If they do trade him, I do not think they can get a one back for him. He has a lot of challenges and is similar to the Wentz/Garoppolo grouping. They might be able to get a second-rounder and something, but it would be hard for them to convince a team for a first in exchange for what he has shown so far. I have always thought it makes sense to give the fifth-year option, but it does guarantee at signing now, which could impact their decision. With the second pick, they either need to find a QB they believe in, or they should exercise the option. If they don't believe in him, they need to take someone with the pick.
Dak Prescott
Age in 2021: 28
Years Left on Contract: FA
Not much to talk about here. Dak is going to re-sign with Dallas. He has all the leverage now. Whatever they were trying to work out, Dallas just needs to get it done.
What will the Saints do?
Assuming Drew Brees is retiring in New Orleans, I think this is an interesting situation to watch. They may just decide to re-sign Jameis Winston to pair with Taysom Hill. They are also a team to keep an eye on if something comes up in the marketplace they feel more confident with. If I had to guess, I imagine they go forward with the two guys they have, and see if they can make that work. That platoon in itself will be interesting to watch.