Reigning Heisman Trophy winner Caleb Williams has received plenty of publicity as a potential top pick in the 2024 NFL Draft, but he's not the only quarterback in the conversation.
North Carolina junior Drake Maye is frequently slotted right behind him by draft experts. It will be fascinating to see how both perform this season. Maye is the focus of this look at the 2024 quarterback class.
Others in series: Caleb Williams | Michael Penix Jr. | Bo Nix | Jordan Travis | Quinn Ewers | Joe Milton
Drake Maye Evaluation
Games Watched
North Carolina State
Clemson
Oregon
Wake Forest
Who Is Drake Maye?
Maye is part of a UNC lineage. His father played quarterback there, and three brothers played for the Tar Heels basketball team. Maye arrived in Chapel Hill as a four-star recruit and played in four games in 2021, redshirting behind current Washington Commanders quarterback Sam Howell before becoming a 14-game starter last season.
In his second year on campus, Maye put up big numbers: throwing for 4,410 yards, 39 touchdowns and only seven interceptions while completing 66.2 percent of his throws. He also was productive as a runner, leading his team in yards rushing with 698 while adding seven touchdowns. In his first season as the starter, Maye received ACC Player of the Year honors, elevating his stature as a future NFL starting quarterback.
Like most college offenses, the UNC offense has Maye primarily in the shotgun. Across my four-game breakdown, there were limited RPOs and plays from under center, few plays that I would call hard play-action, and only minimal movement throws outside the pocket. The UNC offense featured many quick inside hitches and slants but also numerous vertical shots to outside lanes and periodic yet productive throws in intermediate areas over the middle. 
One thing evident from the tape is the significant pass rush pressure and duress that Maye was under throughout the season due to offensive line injury, structure and missed assignments that forced his offensive coordinator to call an abundance of quick game passes. Maye consistently had to deliver under pressure, extend plays outside the pocket, or use his legs to move the chains.
What Maye Does Well
The first thing you notice when turning on the video is Maye's prototypical size. He is listed at 6-foot-4 and 225 pounds and looks to be all of it.
Maye has a consistently smooth, over-the-top throwing motion but also can use multiple throwing angles to deliver when necessary.
It is nearly impossible to fully measure a quarterback's arm talent without seeing them work out in person, but Maye appears to have a strong arm and the ability to throw the ball effortlessly and effectively horizontally and vertically, using the entire field.
When the ball comes out of his hand, he has high-level flashes of accuracy and ball placement, illustrating the ability to change speed and trajectory as needed. There were moments where he showed great rhythm, feel and touch on timing throws to intermediate areas over the middle and outside lanes.
Mentally, he looked advanced for a second-year college player pre- and post-snap. It was clear before the snap that he was in full control of the line of scrimmage, communicating with poise and showing the ability to change plays and/or protections. Post-snap, he recognized coverages, was coached to look off the safety when appropriate and was able to make full-field reads. On multiple occasions, he was able to anticipate when receivers would break open against zone coverage before quickly delivering between multiple defenders for high-level and explosive completions.
Within the confines of the pocket, Maye is poised for a 20-year-old, appearing unrattled even under constant pressure and while taking hits throughout each game. Under duress, he was willing to throw the ball away with a calm, "next play" demeanor. 
While he does not have the elite escapability to make the Houdini-like explosive plays of a Bryce Young (scouting report) or Caleb Williams, he has a good feel for pressure. Maye understands where the free rusher in pass protection is coming from to deliver a hot throw and is comfortable getting out of the pocket. Once outside of the pocket, he does not exhibit elite athleticism, but he is enough of a threat to be a credible rusher and can extend plays and get first downs with his legs.
Most importantly, in key moments, Maye showed the "it" factor, finding ways to finish drives with his arm or legs in the red zone.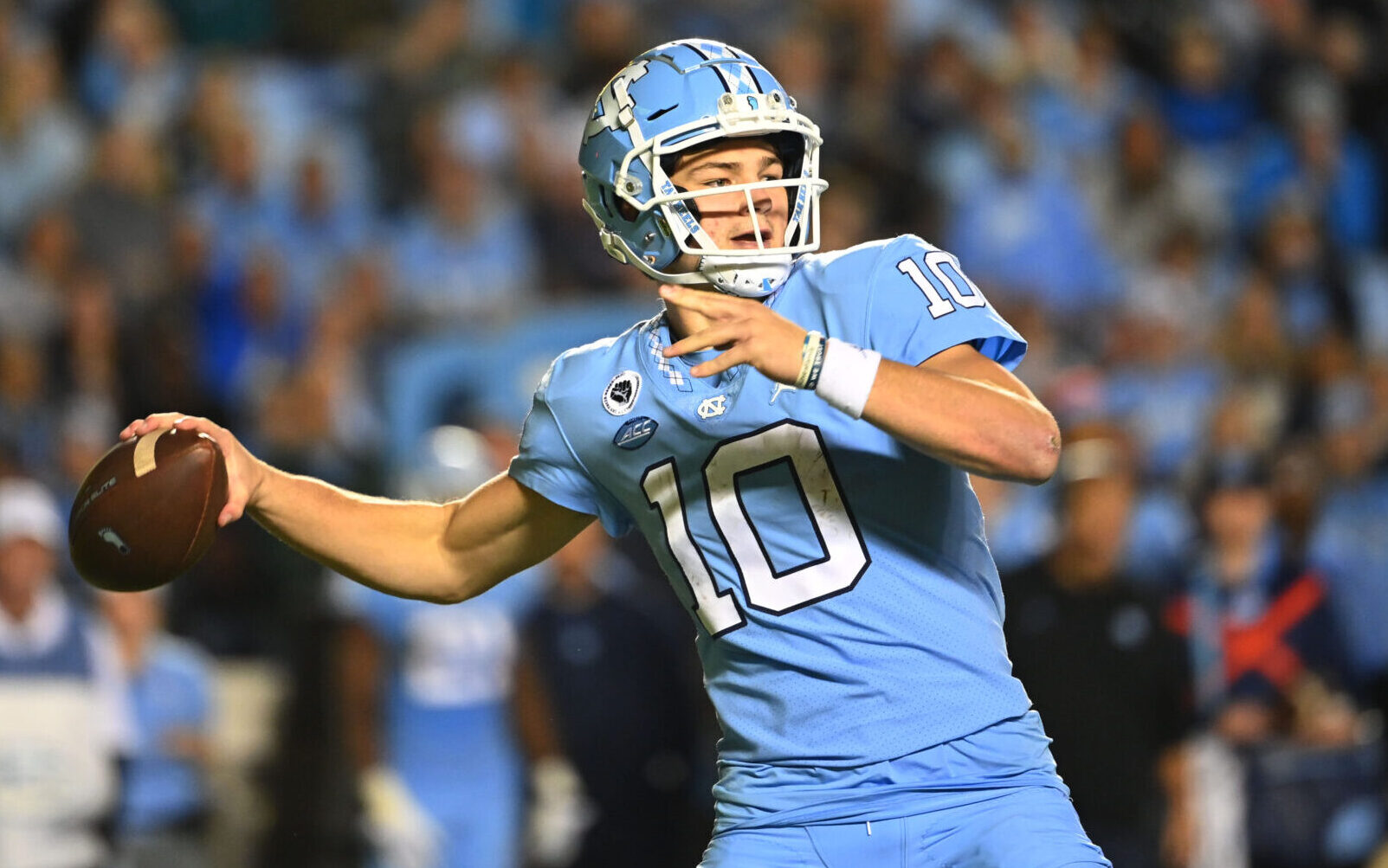 Where Maye Can Grow
Maye's combination of size, arm talent, accuracy, athleticism, mental acuity and "it" factor make him an exciting prospect. But there are also areas of growth that will allow him to improve his game.
The most obvious issue in Maye's game is his inconsistent lower-half mechanics. With undisciplined footwork at times on his drops, his accuracy and location can suffer as a result.
Maye needs to work on mechanical issues, which frequently impact his accuracy. For example, when he steps to throw, at times he fails to open his left foot to the target and does not fully transfer his weight to his left side. As a result, his knee and hips are not square to the intended receiver. This correctable inconsistency forces him to throw across his body, causing the ball to lose velocity and be thrown high or behind his target.
In most cases, Maye stages the ball high and tight to the sternum, protecting it and facilitating a quick release to immediately get it up and out. But other times, he will be too relaxed, carrying the ball lower, which can result in a late delivery or lack of accuracy.
Another correctable flaw in Maye's game is his lack of accuracy while throwing go routes to outside lanes. Over the course of each game I watched, it was clear that as part of the offense, Maye had the option to take deep shots against one-on-one coverage. On too many of these occasions, Maye's deep passes were thrown out of bounds, failing to give his receivers a legitimate opportunity to make the play or create a pass interference situation. Maye and his receivers must come together this offseason and work to improve this part of his game to take advantage of the opportunity the defense and his coaches give him.
While Maye looks calm under pressure and made significant throws under duress for touchdowns in the red zone, there are also some glaring instances where he is unnecessarily reckless and nonchalant with his passes, which have resulted in interceptions. Minimizing these negative plays will be part of his growth as he matures.
Other minor issues pop up in Maye's game, such as drifting into protection at times or the need to learn how to properly slide to limit hits when running the ball. But improving his footwork, throwing mechanics, outside lane deep passes, and recklessness under pressure will be key to his development in Year 2 as a starter.
Comparing Maye to 2023 Class
When comparing Maye to the recent handful of rookie quarterbacks I watched leading up to the 2023 Draft, there is no direct comparison that comes as close as USC's Williams and the Carolina Panthers' No. 1 overall pick, Young. 
The closest direct comparison in the 2023 class for Maye might be No. 33 overall pick Will Levis (scouting report). With similar size, athletic ability and arm talent, there may be comparisons between the two between now and next April. However, Maye is nearly three years younger than Levis and looks more accurate on tape.
Currently, Maye is not the playmaker Young is, the polished passer C.J. Stroud (scouting report) is, or the elite athlete Anthony Richardson (scouting report) is. However, with his combination of physical traits, poise, quiet mind, an "it" factor and another year to develop before he's eligible to declare for the draft, Maye has the tools to be a franchise NFL quarterback. It's too early to make direct comparisons, but in some ways he is reminiscent of Daniel Jones, a former sixth overall pick who recently signed a $160 million contract extension with the Giants.
With a year behind him as a high-end producer as both a passer and runner, I look forward to watching the returning ACC Player of the Year's development and revisiting his game tape prior to the 2024 draft.
---
Marc Trestman is a former NFL, CFL and college coach. After over a decade as an offensive coordinator and quarterback coach in the NFL, he coached in four Grey Cups in the CFL, winning three over seven years with Montreal and Toronto before becoming head coach of the Chicago Bears. Follow him on Twitter at @CoachTrestman.