Build – Does he have prototype size? Body type/Growth potential?
Well built RB with strength in his lowers and a solid strong upper body to withstand and deliver contact. Has been extremely healthy during his time at Clemson and body allows him to play RB in every facet of the game effectively and efficiently (inside/outside/pass pro/etc)
Mental – Is he instinctual? Does he play with urgency?
Natural instincts, is able to find the gap prior to reaching the LOS with good vision to find cutback lanes. Can be over-eager in his approach to the LOS. Plays with extreme violence, fights for yards, has a strong motor that will enable him to pick up yards after contact and fall forward
Athleticism – Does he have the athletic traits you want?
Can score from anywhere on the field due to long speed with long strides (track type speed). Incredible agility and twitch in his lower half to jump cut, spin or cut through and by tackles. Can be seen running horizontally with the intent to cut back up field and has no wasted movement cutting back up the field. One cut and explode. Elite body control and tackle shedding ability with tendency to square his shoulders and bounce off hits. Will be extremely uncommon to see him tackled around the leg or waist but can be tripped up from behind when contact is made with his feet. Top tier cut and juke ability in the open field with the ability to make a defender miss or bounce off/through them for extra yard gain
Technical – Does he have a refined skill set? Is he a projection or is his game developed enough to contribute early?
Projects as a 3 down back. Physical and Agile runner, and has improved in the passing game every year at Clemson. If given the ball in open space, he will make a defender miss with twitchy footwork and an impressive spin move. Will create plays most won't due to ability to cut off angles of defenders with speed or breaking tackles. Has some issues when running inside keeping his body tight/small through the LOS. When given space in outside runs, he could score from anywhere on the field. Dealt with lack of awareness fumbles but not frequent. Pass Pro is a possible issue. He has a willingness to block but rarely squares up an incoming defender, often throwing a shoulder with the rusher slipping off and continuing after the QB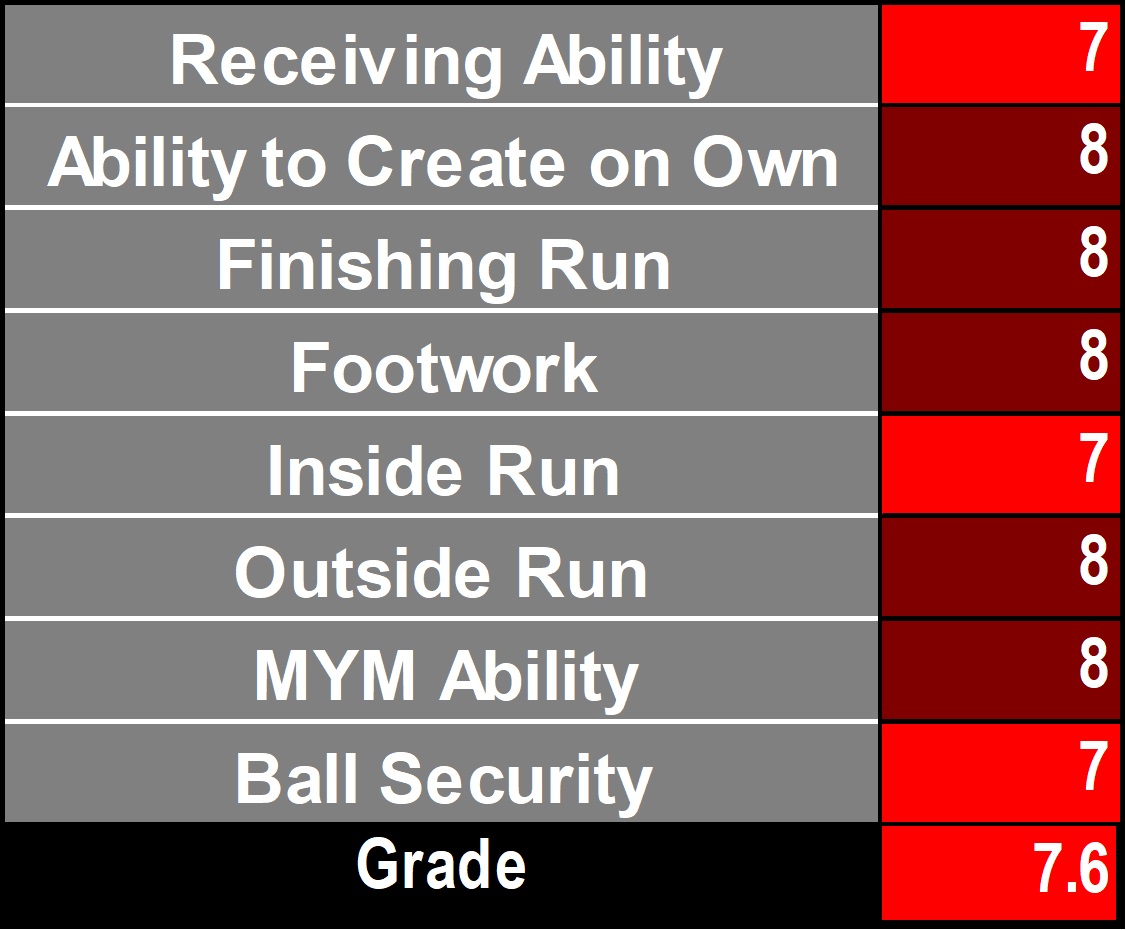 Summary – What role does he play? What is his initial projection?
Etienne is an elite runner in terms of contact balance and body control. He excels in different aspects of the game including long speed, explosiveness, football IQ and change of direction. Etienne has proven for years he can garner a full workload and remain healthy/effective during the entirety of the game. He has improved his 3rd down ability out of the backfield recently but could work on pass blocking. Ultimately, every time Etienne gets his hands on the football with any space, he is a threat to score or gain chunk yardage while falling forward