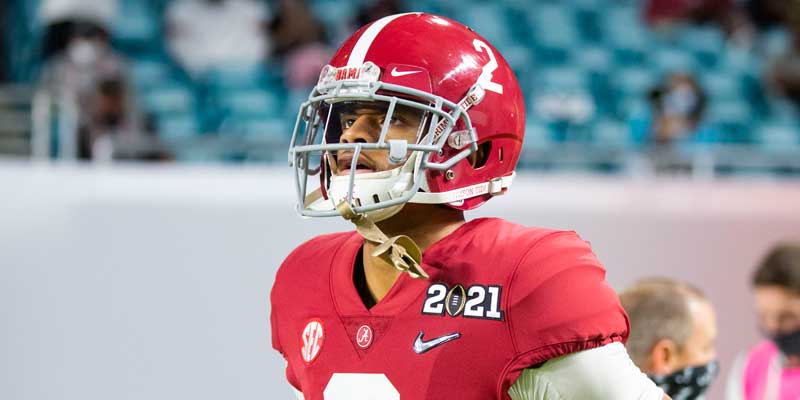 After what looked to be a promising 2020 season for the Dallas Cowboys, America's Team fell short yet again. They finished 6-10, their worst record since 2015. The lack of an offseason didn't help new head coach Mike McCarthy or defensive coordinator Mike Nolan. Injuries plagued the team on both sides of the ball. Once five-year starter QB Dak Prescott went down with a compound fracture and dislocation in his right ankle in early October, it was hard to see the Cowboys making any real noise down the stretch, even in a weak NFC East. But with the 10th pick in this year's draft, the Cowboys could easily be back in the mix next season.
Some quick history. The following are the last five years' worth of first-round draft picks for the Cowboys:
2020: CeeDee Lamb (WR)
2019: No first-round pick
2018: Leighton Vander Esch (LB)
2017: Taco Charlton (DE)
2016: Ezekiel Elliott (RB)
This year's No. 10 pick will be Dallas' highest draft pick since they selected Ezekiel Elliott with the fourth overall pick in 2016.
The following players mentioned below are players who could possibly be on the move, either through trade or being cut due to their 2021 cap hit (age in parentheses):
Jaylon Smith, LB (25)
Tyron Smith, OT (30)
Chris Jones, P (31)
Dallas will be looking to find a difference maker with the No. 10 pick and lucky for them, there is no shortage of talent. The Cowboys have the pieces on offense and should be looking to shore up the defensive side of the ball. Below are some routes we believe Dallas may take:
Possibility #1: Patrick Surtain II, CB, Alabama
2020 stat line: 13 games, 37 tackles, 22 solo, 3.5 TFL, 1 INT, 9 PD
Why: Surtain is the son of former All-Pro cornerback Patrick Surtain Sr., so there is no doubt that football is in his DNA. He managed to play in every game during his time in Tuscaloosa, which includes 38 consecutive starts. Surtain was a clear first-team All-American for his performance during the Tide's 2020 national championship run. Teams largely stayed away from Surtain in coverage. When he was targeted, teams never had much success. Surtain allowed 25 or fewer yards receiving in 10 of 13 games during the 2020 season. He was targeted in coverage just 48 times.
The Cowboys have multiple corners that are set to hit free agency before the 2021 season, none of them really worth paying top dollar for. Dallas needs another corner to line up on the opposite side of Trevon Diggs next season. Diggs was another Alabama star, selected by Dallas with the 51st pick of the 2020 draft. Who better to help hold down the secondary than former teammate Surtain? The two were one of the deadliest cornerback combos in college football during the 2019 season.
Possibility #2: Kwity Paye, Edge, Michigan
2020 stat line: 4 games, 16 tackles, 12 solo, 4 TFL, 2 sacks
Why: Paye is one of the more exciting players to watch coming out of this year's draft. In what was a disappointing season for Michigan, Paye shined bright. There is no telling how high his ceiling could be, as Paye has shown his ability to win using raw speed and athletic ability.
If the Cowboys decide to go after the cornerback position in free agency instead of with the 10th pick, adding a defensive end like Paye would be another viable option. Adding Paye to a line that already has DeMarcus Lawrence would instantly give Dallas the defensive lift that it needs. Paye is known for his ability to bend the corner and get into the backfield, disrupting plays from the start.
Possibility #3: Caleb Farley, CB, Virginia Tech
*Opt-out in 2020
2019 stat line: 10 games, 20 tackles, 14 solo, 4 INTs, 12 PD
Why: After only playing the cover back position for two years, Farley has a strong upside that should be appealing to Dallas. He doesn't possess the most physical play style, but he uses his athleticism and speed to change direction and make up for possible mistakes. He can run with any receiver and has incredible hip fluidity. Farley lacks more than a year of solid tape, and has some injury concern, but his skillset is intriguing.
It's encouraging that Farley has only two years at the position under his belt, yet he is still considered one of the top prospects at the position in the 2021 NFL Draft. Farley will be a viable option at the 10th pick if Surtain isn't available.
Possibility #4: Kyle Pitts, TE, Florida
2021 stat line: 8 games, 43 receptions, 770 yards, 12 TDs
Why: Dallas has no shortage of offensive talent, but it wouldn't be surprising if they elected to add more by selecting TE Kyle Pitts. Current Dallas TEs Blake Jarwin and Daltom Schultz are solid players, but they have nowhere near the same offensive play-making ability as Pitts. He was Kyle Trask's favorite weapon in 2020, especially in the red zone, reeling in 12 TDs in eight games. The thought of adding Pitts to a lineup that already includes stars like Amari Cooper, Michael Gallup, CeeDee Lamb and Ezekiel Elliott might be too sweet of an opportunity to pass up.
SEE ALSO: