In the months leading up to the 2022 NFL Draft, a half dozen quarterbacks were projected to go in the first round at various times. Instead, only Kenny Pickett was selected before the third round, as he went No. 20 overall to the Pittsburgh Steelers.
After one year, seven of the nine rookie quarterbacks selected last year have had at least one NFL start, and two will start in the playoffs. The only two who have not seen playing time are Carolina's Matt Corral (injured in the preseason) and Kansas City's Chris Oladokun.
While I won't sit here and pretend I can project how each of these players' careers will unfold, here's how I rank the eight rookies we've seen play based on this year's tape:
Drafted: Round 7, No. 262 overall
Statistics: Starts: 5 | YDS: 1,374 | PCT: 67.1 | TD: 13 | INT: 4
After studying all the rookie quarterbacks in the 2022 class, Purdy clearly stands above the rest. As the final pick in the 2022 draft, he has simply played better, been more productive, and has led his team into the playoffs after an injury to the starter. This is a similar storyline of quarterbacks such Kurt Warner, Tom Brady, Bob Griese and Nick Foles, to name a few.
With three quarterbacks already on the 49ers roster at the time he was drafted, the hope was that Purdy would compete with Nate Sudfeld for the No. 3 spot behind Trey Lance and Jimmy Garoppolo. Eight months and two major injuries later, the narrative has been turned on its head with San Francisco's Super Bowl hopes squarely resting on the shoulders of the seventh-round rookie, who has gone from Mr. Irrelevant to one of most relevant players in the NFL.
Purdy simply has shattered all expectations. He has a high level of spatial awareness and functional intelligence. He has innate ability to slow down the chaos of the game, and to see the field with the inherent ability to feel and avoid pressure in the pocket. He has an uncanny sense of timing and the courage to stand in and deliver, knowing he will get hit after the throw. Yet he also has the athleticism and ability to find a quiet space to deliver the ball, as well as agility, niftiness, and foot quickness to extend the play in the pocket.
Since Garoppolo's injury against the Dolphins, Purdy has only turned the ball over three times. Since Week 14, he is leading the league in numerous passing stats, including passer rating (119.0), passing touchdowns per attempt (8.9 percent), and passing yards per attempt (8.85). He is also tied for first with 11 touchdown passes and five wins during that span.
Over the past month, we have yet to see many flaws in his game. Yes, he has missed some open throws, he doesn't have an explosive arm (although he can make all the throws with timing and anticipation), and he has forced some throws that could have been intercepted. But in spite of that, what we are seeing is an extremely elite level of poise, productivity and performance.
As the 49ers prepare to go deep in the playoffs, there is no indication the the offense with Purdy under center will be cooling off anytime soon. Purdy clearly has been the best of the 2022 quarterback class.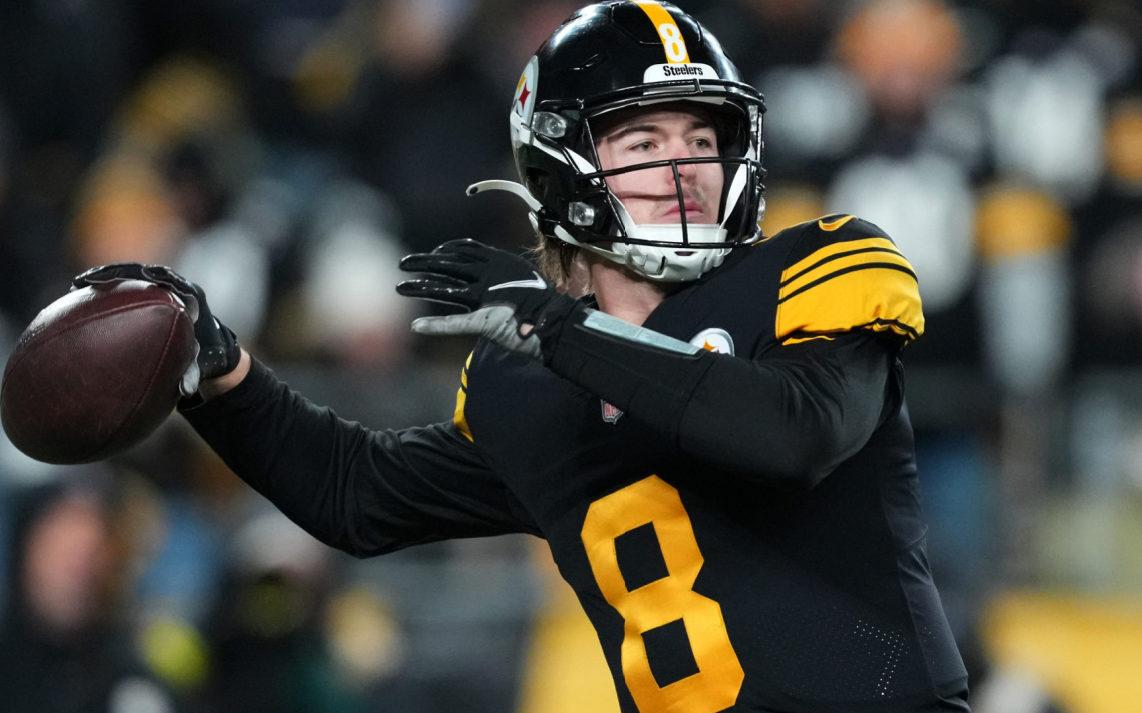 Drafted: Round 1, No. 20 overall
Statistics: Starts: 12 | YDS: 2,548 | PCT: 63.0 | TD: 7 | INT: 9
I am extremely excited about the Pickett's future. He clearly checks all the boxes of a first-round pick and a starter in the NFL. I think we are watching the transformation of a rookie first-rounder into a franchise quarterback in the very near future. Pickett has so many of the attributes of an elite quarterback. He has explosive arm strength with tremendous throwing mechanics, the ability to function at an elite level, with mental and physical toughness as well.
It is clear from watching the games he has the poise, confidence and belief of his teammates. There is a "wow" and "it" factor to his game.
Over the past two weeks, we saw this talent prevail against Cleveland and Baltimore, with the explosive throws from sideline to sideline and up the field, poise in the pocket and off-platform. I could not be more impressed with his Roethlisberger-like ability to extend plays with explosive and sometimes awkward throws to his right and left.
Over the past eight weeks, Pickett only turned the ball over once, but with only six TD passes. Not being in the quarterback room makes it difficult to see exactly what is holding him back, but the tape is clear: accuracy is an issue. The best quarterbacks are consistently accurate. Pickett has been all over the place at times with simply too many misplaced throws. But with a fundamentally strong throwing motion, the ability to deliver in and out of the pocket, and a better understanding of the offense, I believe we will see substantial improvement in 2023 after an offseason in the classroom.
Coach Mike Tomlin did not hold back this year giving Pickett an opportunity not just to service the offense but lead it. This will undoubtedly bring rewards in the quarterback's sophomore year.
Drafted: Round 3, No. 74 overall
Statistics: Starts: 4 | YDS: 708 | PCT: 63.5 | TD: 2 | INT: 0
After enduring a two-game losing streak with a record of 5-8 at the time, Atlanta coach Arthur Smith turned to Ridder. I have enjoyed watching Ridder progress through the conclusion of the season and am excited about his future.
Ridder has good size at 6-foot-3, is strong in the pocket and has more than sufficient athleticism to escape, extend plays, and make accurate and explosive throws on the move outside the pocket.
Over the four games he started for the Falcons, Ridder's college skills translated smoothly to the NFL with the ability to throw courageously from the pocket with NFL arm talent, use good fundamentals, and incorporate functional intelligence to play at the speed required in the league.
With less than adequate pass protection during the last four weeks, he was able to not only manufacture positive plays with his ability to escape the pocket, but most importantly, did an incredible job for a first-year quarterback by taking care of the football. This showed considerable improvement from sporadic recklessness he showed in college.
In the final two games of the season, Ridder checked off many of the boxes that illustrated his on-the-field improvement. His completion percentage went from 65 percent to 73 percent in the final two games. Against Arizona, it appeared Smith protected him by calling short, quick throws from the pocket, but in the last game vs. Tampa Bay, Smith appeared to turn him loose. Ridder showed up with dynamic throws from the pocket, quickness to escape, while throwing accurately both short and deep and on the move. I was particularly impressed with his decision and playmaking ability in the red zone.
The Falcons experiment of turning over the starting job to Ridder undoubtedly will reap dividends over an offseason and training camp. Although Smith is not ready to commit to him fully just yet — and I understand why — the tape is clear: this young man can play. With better pass protection alone, he will continue to be a productive player in the future.
Drafted: Round 4, No. 137 overall
Statistics: Starts: 2 | YDS: 781 | PCT: 70.7 | TD: 5 | INT: 3
Despite being drafted in the fourth round and playing at two small colleges (Western Kentucky and Houston Baptist), Zappe performed beyond expectations. Originally being third string on the Patriots depth chart (behind Mac Jones and Brian Hoyer), he got the start in Week 5 against Detroit and played extremely well. Zappe won his first two starts, gained the trust of the coaches and teammates, and his team rallied hard behind him. After a poor performance against Chicago, he was replaced by Jones, who had recovered from an ankle injury.
Zappe is not imposing in stature and does not have a big arm, but he has tremendous poise, great feel, anticipation and timing for the passing game. He is accurate and courageous in the pocket and has more than sufficient athleticism to get out of the pocket and throw accurately on the move.
For a first-year player to step into a competition far beyond the caliber he played in at the collegiate level is a credit to his ability to adapt quickly, learn an entirely new offense and win. He will go into 2023 respected and competitive in the Patriots locker room.
Drafted: Round 5, No. 144 overall
Statistics: Starts: 1 | YDS: 169 | PCT: 57.9 | TD: 1 | INT: 1
Obviously, it is extremely difficult to evaluate a rookie QB without addressing his college tape, seeing him in the meeting room and his work on the practice field. Yet, in Howell's only start, he performed well given his fifth-round draft status.
His first career pass went for a touchdown. He showed poise to stand in the pocket to make throws, and that the game was not too big for him. Howell also showcased his football intelligence by recognizing mismatches in coverage. He has no throwing limitations and clearly has the arm talent to attack all areas of the field deep and outside the numbers. The ball appears to go as the play is designed, and he was able to find his No. 1 receiver, Terry McLaurin, in crucial situations. His poor decision and interception in the red zone last week, however, was an indication that there is room to grow.
Howell will extend plays despite limited athleticism and can use his legs to get a new set of downs. With just of few flashes of toughness and courage in the pocket, I believe there is enough on a minimal amount of tape for Howell to be in the competition for next year's starting quarterback job in Washington.
Drafted: Round 3, No. 86 overall
Statistics: Starts: 3 | YDS: 276 | PCT: 50.8 | TD: 0 | INT: 3
Willis saw playing time in eight games, while starting three of them. I watched him against the Chiefs and Texans, and the tape was extremely difficult to watch. While there are flashes of talent through his staging of the ball, throwing motion and NFL arm talent, without adequate pass protection due to defensive pressure, it is difficult to formulate an adequate evaluation.
Against Houston there was little opportunity to evaluate his overall arm talent due to him making mostly short throws, but we did see some positive flashes show up against Kansas City, where the Titans threw the ball deep. The throws were either out of bounds or the receiver was unable to make the contested catch.
When you see Willis in the pocket, you like the staging and over-the-top delivery with the ability to get the ball out from different arm angles. But there is the tendency to hold onto the ball too long and stare down receivers. There were times he forced the ball when escaping, and there were very few throws completed on the move, with no explosive plays with his arm or legs.
Willis has raw talent, but there was nothing dynamic athletically that shows up when he is outside the pocket on the tape. Of his three turnovers during the season, I only attributed one to be his responsibility.
What you like about Willis is he will stand in the pocket, and the ball is up and out quickly. But there are a lot of unanswered questions that are not revealed on the tape. Coach Mike Vrabel said it last week: "This offseason Malik needs to continue to increase his knowledge of the offense, stay in peak physical condition, and that nothing is promised."
With a new offensive coordinator in Nashville and an important offseason ahead, we've seen promise from Willis. But as Vrabel acknowledged, he has a lot of work to do. From the limited amount of tape, he has a long way to go to be in a bona fide competition for the starting role.
Drafted: Round 7, No. 247 overall
Statistics: Starts: 2 | YDS: 534 | PCT: 57.1 | TD: 1 | INT: 3
Thompson has seen playing time in seven games, starting the past two against the Patriots and Jets and playing with the first unit of receivers in both games. Over the course of those two contests, there is reason to believe that Thompson has promise and the ability to improve as a quarterback along the way.
There are some outstanding and courageous throws under pressure as well as the ability to escape and make good things happen. There were a few occasions where Thompson lost himself, made some reckless throws, one of which was in the red zone. The biggest red flag came while escaping to his right under pressure, where he took a sack behind the line of scrimmage by the sideline instead of throwing the ball away when he had the opportunity.
There is no lack of toughness with Thompson, and on a couple of occasions he showed the ability to work through progressions. The opportunity to get considerable amount of playing time will benefit him as OTAs and training camp approaches. He'll get at least one more start this week when the Dolphins face the Bills in the wild-card round.
At the present time, Miami may not look at him as a potential long-range starter, but he has enough value to be serviceable in the quarterback room.
Drafted: UDFA
Statistics: Starts: 1 | YDS: 302 | PCT: 44.9 | TD: 0 | INT: 2
Brown became the starter for the Ravens in Week 18 after the decision to rest backup QB Tyler Huntley and the injured Lamar Jackson. During the first half of the game, playing under extreme pass-rush pressure, Brown struggled with accuracy on the majority of his passes and forced two interceptions.
As the game progressed, he began to gain some confidence as the his offensive line was able to control the Bengals' pass rush. He showed off his quick release and arm talent by completing some passes to a variety of receivers on multiple levels of the field. On the other side, there was a lack of accuracy on throws in the red zone and a forced throw into coverage.
During the game, it was difficult to assess his ability to work the pocket, extend and create positive plays. But during times when he could set his feet, he was able to accurately throw the ball. Brown's ability did flash on several plays. There is a reason the Ravens brought him to camp, but there is much work to be done.
* * * * *
I truly believe that in the NFL every quarterback must celebrate and embrace his own journey and not compare himself to the others. NFL Hall of Famer Steve Young didn't become a fulltime starter in the NFL until he was 29, Rich Gannon (a fourth-round pick) didn't become a league MVP until his 15th season. Tom Brady was pick No. 199 in the draft, and Hall of Famer Kurt Warner was working in a grocery store.
From Pickett to Purdy, each of the first-year players got the opportunity in their rookie season to live their childhood dream of being a starting quarterback in the NFL. Having spent time watching them play in their first year, I look forward to their individual journeys as players in the National Football League and wish them well.
Marc Trestman is a former NFL, CFL and college coach. He coached in four Grey Cups in the CFL, winning three over seven years with Montreal and Toronto before becoming head coach of the Chicago Bears. Follow him on Twitter at @CoachTrestman.